In a momentous announcement at the House of European History in Brussels on the 20th of September 2023, the city of Skopje, nestled in the heart of Macedonia, was awarded the coveted title of European Capital of Culture for the year 2028.
This prestigious recognition marks a significant milestone in Skopje's cultural history, celebrating its commitment to unity through culture.
Skopje's winning program, "Culture over division," is set to place the city on the global map as a thriving hub for cultural exchange.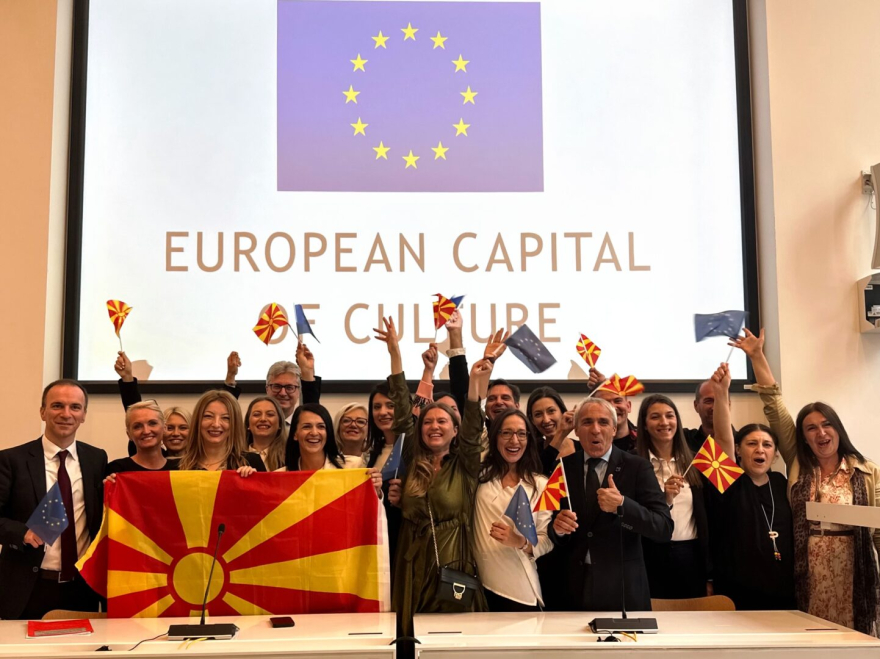 Culture Over Division:
Skopje's triumphant bid, encapsulated in the program "Culture over division," is a testament to the city's unwavering dedication to forging unity through the arts.
This innovative and captivating initiative aims to bridge divides within the city and beyond, fostering understanding and cooperation among diverse communities.
By showcasing the power of culture to transcend barriers, Skopje is poised to inspire the world.
The Vision Behind the Winning Bid:
Mayor of Skopje, Danela Arsovska, played a pivotal role in articulating the city's vision that guided their successful bid.
Central to this vision is Skopje's commitment to its youth, nurturing creative industries, and embracing eco-friendly practices.
The program, set to kick off in January 2024, promises a kaleidoscope of cultural events featuring both national and European artists, all leading up to the grand culmination in 2028.
The Journey to the Title:
Skopje's journey to securing the title of European Capital of Culture for 2028 was far from an overnight success.
It was a complex, multi-year process that required collaborative efforts from various city and state cultural institutions, cultural stakeholders, and experts.
The city received unwavering support from numerous influential figures, including Minister of Culture Bisera Kostadinovska, President Pendarovski, and other state institutions.
Additionally, Skopje's bid garnered substantial backing from a multitude of European cities and their cultural institutions.
Looking Forward: Skopje in 2028:
In 2028, Skopje will not merely be another European city; it will embody the very essence of European culture.
This momentous occasion stands as a testament to Skopje's rich cultural heritage and its unwavering commitment to nurturing creativity and innovation.
As Skopje eagerly prepares to take its turn in the spotlight, it extends a warm welcome to Europe and the world to partake in its vibrant cultural tapestry.
The year 2028 promises to be an unforgettable celebration of art, history, and unity, firmly establishing Skopje as a beacon of cultural brilliance on the European stage.
The Legacy of the European Capital of Culture:
The European Capital of Culture initiative, often referred to as "ECoC," is a remarkable program that has been celebrating Europe's rich cultural diversity since its inception in 1985.
This prestigious title is awarded annually to one or more cities in Europe, giving them the opportunity to showcase their cultural heritage, creativity, and artistic innovation to the world.
This initiative has played a pivotal role in promoting cultural exchange and cooperation among European nations.
The Origins of the European Capital of Culture:
The concept of the European Capital of Culture was first proposed by the Greek Minister of Culture, Melina Mercouri, in 1983.
She envisioned an initiative that would bring Europeans closer together through culture and creativity, celebrating the cultural richness of the continent.
Mercouri's vision gained widespread support, leading to the establishment of the program.
How It Works
Each year, the European Union, in conjunction with the Council of Europe, designates one or more cities as European Capitals of Culture.
These cities are selected through a competitive bidding process, wherein they present their cultural programs, ambitions, and plans for the year in question.
The selection panel evaluates the proposals and chooses the most compelling and promising projects.
Winning cities are then granted substantial funding and logistical support to bring their cultural visions to life.
The Impact of the European Capital of Culture:
The European Capital of Culture title has a profound and lasting impact on the cities it touches.
Here are some of the notable effects:
Cultural Revival: Winning cities experience a cultural renaissance, with a surge in artistic and cultural activities. This often includes exhibitions, festivals, performances, and other events that draw both local and international audiences.
Economic Boost: The program stimulates tourism and economic growth in the host city, creating jobs and increasing revenue. Businesses related to the arts, hospitality, and tourism thrive during the year.
Urban Development: Many cities use the opportunity to invest in infrastructure and urban development, rejuvenating historic districts and cultural venues.
Global Visibility: The European Capital of Culture title catapults cities onto the global stage, attracting attention from tourists, artists, and cultural enthusiasts worldwide.
Notable Previous European Capitals of Culture:
Over the years, numerous cities have been crowned European Capitals of Culture, leaving indelible marks on the cultural landscape of Europe.
Here are some notable examples:
Athens, Greece (1985): As the inaugural European Capital of Culture, Athens set the standard for future host cities, showcasing the birthplace of Western civilization's cultural richness.
Paris, France (1989): Paris, a city synonymous with art and culture, used its year to highlight its artistic heritage and promote contemporary creativity.
Florence, Italy (1986): The cradle of the Renaissance, Florence, celebrated its unparalleled artistic legacy during its tenure as a European Capital of Culture.
Lisbon, Portugal (1994): Lisbon embraced its maritime history and diverse cultural influences, inviting the world to explore its captivating traditions.
Istanbul, Turkey (2010): Istanbul, a city bridging East and West, showcased its unique cultural blend and history during its European Capital of Culture year.
Valletta, Malta (2018): Valletta, the smallest capital in the European Union, captivated the world with its architectural beauty and rich history.
These cities, among many others, have left an enduring legacy of cultural enrichment and international cooperation.
The European Capital of Culture initiative continues to be a beacon of unity through culture, fostering understanding and appreciation among Europe's diverse nations.
Each year, it reaffirms Europe's commitment to celebrating its cultural tapestry and sharing it with the world.
---
This guide was first published on September 21, 2023 and was last updated on October 31, 2023. For more information, please contact us at contact@skopjeguide.com.