In a place where the rich history and culture blend seamlessly with modern attractions, Macedonia's capital city has become a hotspot for foodies seeking to satisfy their cravings.
With a wide variety of pizzerias scattered throughout the city, it can be tough to narrow down the best spots for that heavenly bite of cheesy goodness, but fear not, for we have done the legwork and sampled the offerings from the most popular pizzerias in Skopje.
So, loosen your belts and grab your napkins as we dive into the world of Skopje's best and most sought-after pizza restaurants.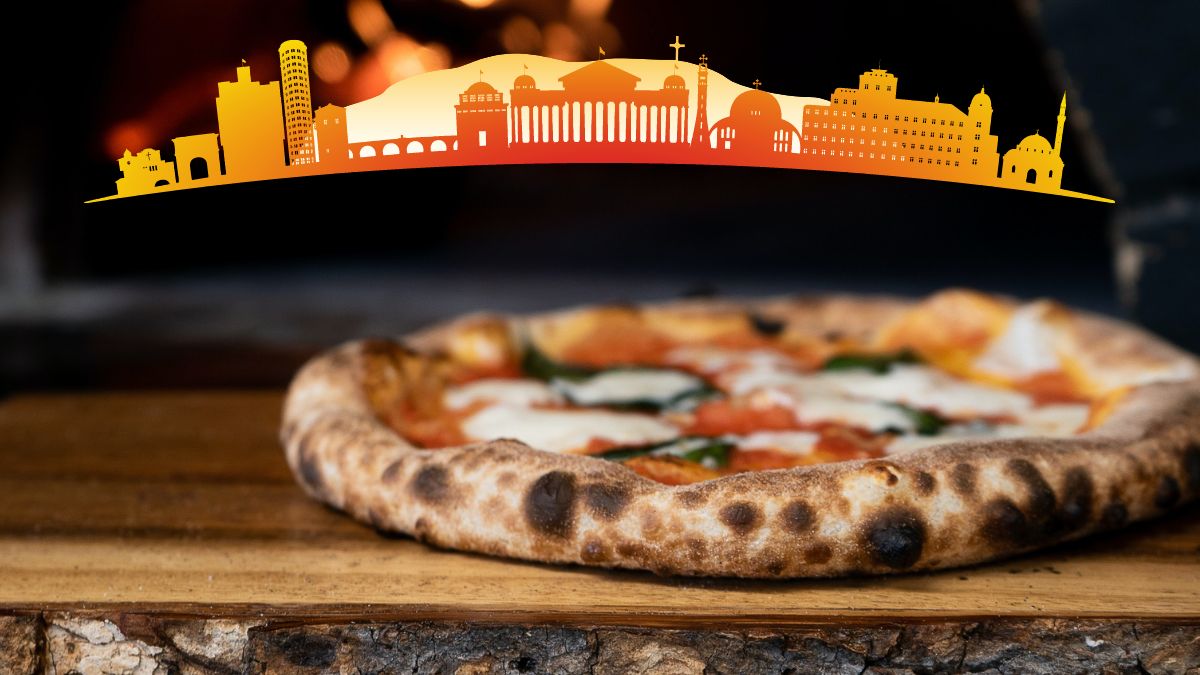 Matto Napoletano
Best for authentic Neapolitan pizza.
Matto Napoletano is situated at a leisurely 10-minute walk from the city square and serves up some of Skopje's most authentic Neapolitan pizza, rated the best pizza in town!
The pies boast a harmonious blend of flavors with high-quality, authentic toppings resting on a thin, slightly charred crust.
The texture is a dreamy combination of chewy, crispy, and soft.
The restaurant's 'Luxury Marinara,' a perfect balance of pulp tomatoes, cherry tomatoes, Himalayan salt, fresh basil, and a drizzle of organic olive oil, is a nostalgic trip back to Naples.
The ambiance is a mixture of contemporary classic and, at the same time, warm and inviting, making it suitable for a casual dinner with friends, a date, or even a quiet meal alone.
The exposed brick and wood give it an authentic feel, while the friendly staff adds to the overall charm and are always happy to make recommendations.
This comes in handy when deciding between their vast array of mouth-watering pizzas.
Price-wise, Matto Napoletano sits in the mid to high-range category, with the cheapest pizza on the menu costing 420 MKD (a little less than $8) and more expensive, the 'Burratina', made with a variety of tomatoes, garlic, authentic Italian burrata, organic olive oil, etc., sitting at 950 MKD (a little less than $17.)
Now, the star of the show at Matto Napoletano is undoubtedly the 'Luxury Marinara'; however, they also serve a delicious 'Crudo Con Buratta', loaded with ham, mozzarella, and fresh burrata cheese.
For those with a sweet tooth, the Nutella & Toasted Hazelnuts Croissant is an irresistible treat and a perfect way to end the meal.
Ristorante da Gino
Best for traditional Italian cuisine and thin-crust pizzas.
Ristorante da Gino is a culinary gem nestled in the heart of Skopje, known for its traditional Italian fare, especially the thin-crust pizzas.
Their menu is a testament to Italy's rich, vibrant flavors, with each dish crafted to perfection.
Here, the pizzas are prepared with utmost attention to detail, resulting in a thin yet robust crust, a tangy yet balanced sauce, and generously topped with high-quality, fresh ingredients.
The price point of Ristorante da Gino's pizzas ranges from 250 MKD (around $4) to 350 MKD (just around $6).
This puts the restaurant in the low to mid-range in terms of cost with an exceptional quality of the food that's worth every penny.
Additionally, the charming and homey ambiance of the restaurant adds to the dining experience and features classic Italian decor with warm lighting, creating a cozy and sophisticated atmosphere.
This makes it an excellent spot for a low-key dinner with friends or a quiet meal to savor the flavors of Italy.
One of Gino's standout pizzas is the 'Quatro Staggioni' pizza, made with homemade tomato sauce, mozzarella cheese, black olives, top-quality ham, mushrooms, and artichokes for a burst of flavor in every bite.
The second best is the classic 'Parmigiana' pizza made with homemade tomato sauce, mozzarella cheese, Italian prosciutto, Parmigiano, and rocket for a complete explosion of flavors.
As for dessert, don't miss out on the highest-rated 'Bigne chantilly,' a fluffy and light pastry filled with delicious chantilly cream.
In conclusion, the dining experience, blending traditional Italian flavors with a warm, inviting ambiance and approachable prices, should make Gino's a must-visit for any pizza lover in Skopje.
Enriko Pizza and Pasta
Best for unconventional and experimental pizzas.
Enriko Pizza and Pasta is a treasure trove for those who enjoy experimentation and unconventional flavors in their pizzas.
This place is unafraid to think outside the box and create unique, mouth-watering combinations that challenge the norms.
One such masterpiece is their 'Curry Pizza,' which sounds absolutely wild but is surprisingly delicious, with a perfect balance of spices and toppings.
Their menu features an array of options for pizza lovers to choose from, ranging from classic flavors to more daring combinations, like 'Cordon Bleu,' 'Quattro Stagioni,' and 'Napoletana with vegetables,' which features toppings such as delicious homemade tomato sauce, yellow cheese, ham, peppers, onions, and black olives.
Prices at Enriko range from 330 MKD for a small 'Margherita' and 360 MKD for a large one, which converts to about $5-6, to 450 MKD, which converts to about $8 for their more expensive options.
This places the restaurant in the low to mid-range price category, making it affordable for anyone looking to try out unique pizza flavors.
As for the ambiance, Enriko has a modern and trendy design, with minimalist decor and a diner-style setting, adding a casual yet chic element to the dining experience.
Their friendly and attentive staff also adds to the overall charm of the restaurant.
From traditional to experimental, Enriko Pizza and Pasta offers a diverse range of flavors and an unforgettable dining experience for pizza lovers in Skopje.
The restaurant is also close to the City Mall, which makes it a fantastic spot for post-shopping pizza cravings.
Pizzeria Balilla
Best for a Macedonian spin on Italian pizza.
Pizzeria Balilla, located in the bustling center of Skopje, is a haven for those who appreciate the time-honored tradition of Italian pizza making.
The restaurant's interior is modest and cozy, with a touch of rustic charm.
However, the star of the show here is their wood-fired oven, which gives their pizzas that special and authentic taste that sets them apart.
Their menu offers a variety of traditional and classic Italian pizzas, including the famous 'Margherita,' 'Quattro Formaggi,' and 'Capricciosa.'
However, the restaurant also has a few authentic options, such as 'Letna Pica' or Summer Pizza, which features toppings for Macedonian Salad, an authentic salad made with tomatoes, cheese, peppers, and onion.
With that said, our personal favorite was their closed pizza, or 'Calzone,' which is filled with ingredients such as ham, mushrooms, and mozzarella cheese that practically melts in your mouth.
The prices at Pizzeria Balilla range from 220 MKD (about $4) for a small 'Margherita' pizza to 500 MKD (about $8) for a large pizza with a smoked salmon topping.
This makes it one of the most affordable pizzerias on our list without compromising quality or taste.
So, if you're in the mood for some delicious Italian pizza with an authentic spin, head over to Pizzeria Balilla and indulge in a slice of Italy and Macedonia.
Pizza Portofino
Best for nostalgic, family-friendly dining with exceptional pizza.
Located in one of Skopje's most beautiful neighborhoods and adjacent to the serene Park Macedonia, Pizza Portofino is a delightful staple in the capital city's culinary scene and has been serving mouth-watering pizzas since 1993.
Stepping inside the restaurant, you're greeted by a warm, family-friendly atmosphere.
The decor echoes an Italian trattoria, with terracotta floors, rustic wooden furniture, and charming vintage photos adorning the walls, instilling a sense of nostalgia and coziness.
The menu at Pizza Portofino is extensive and diverse, presenting a wide array of traditional and unique pizzas that cater to all palates.
The pizza crust perfectly balances crisp and chewy, ensuring it stands up to the bevy of toppings that range from classic mozzarella and tomato to more unique offerings like sour cream and smoked ham.
The star of the menu is undoubtedly 'Pizza Siciliana,' a tantalizing creation featuring homemade tomato sauce, mozzarella cheese, garlic, parsley, and oregano – a flavor bomb in every bite.
A key aspect of Pizza Portofino's appeal is affordability.
With prices ranging from 250 MKD (around $4) for a small Margherita pizza to 500 MKD (about $8) for their more extravagant, gourmet options, treating your family or a larger group of people at Portofino won't break the bank.
Despite its modest prices, the quality is not compromised, with each pizza a testament to the establishment's commitment to high-quality ingredients and superb flavors.
What sets Pizza Portofino apart from other restaurants is not just its excellent pizza but also its commitment to a genuine dining experience.
The staff is as warm and inviting as the setting, ensuring every guest feels like a part of the Portofino family.
The restaurant's proximity to Park Macedonia also allows for a lovely post-meal stroll, further enhancing the overall dining experience.
In conclusion, Pizza Portofino offers an unforgettable blend of delicious pizza, hospitable service, and a charming, nostalgic ambiance.
It is a must-visit spot for anyone seeking an authentic, family-friendly pizza dining experience in Skopje.
La Terrazza
Positioned in the heart of Skopje's city square, La Terrazza offers a unique and unforgettable pizza dining experience.
The restaurant's aesthetic is chic and inviting, with sleek, modern décor that exudes a sophisticated charm.
The alluring aroma of fresh pizza dough baking in the wood-fired oven permeates the air, instantly making you feel at home.
The menu at La Terrazza is diverse and inventive, featuring traditional favorites alongside unique and innovative creations.
From the classic 'Margherita' to 'Pastrmajlija,' a traditional, Macedonian-style pizza made with fluffy dough, chunks of pork, or chicken and served with a hot pepper, there's something for everyone to enjoy.
Prices at La Terrazza range from 300 MKD (about $5) to 700 MKD (around $12) for their gourmet pizzas, placing the restaurant in the mid-range price category.
The quality of the pizzas, combined with sophisticated ambiance, friendly staff, and mouth-watering desserts that include cakes, sweet pastries, and refreshing fruit bowls to end a perfect meal, makes it an excellent value for money.
But besides that, accessibility is another key feature of La Terrazza. Being located in the city's square, it's easily accessible from all parts of the city, making it an ideal choice for both locals and tourists.
Soul Kitchen Restaurant
Best decorated restaurant that uses locally sourced ingredients and offers quality foods at affordable prices.
With two locations in Skopje— one along the vibrant promenade and the other inside East Gate, Macedonia's largest mall— Soul Kitchen Restaurant stands out as a true culinary gem in the city's food scene.
As you step into either restaurant, you're instantly enveloped by a contemporary yet relaxed atmosphere. The decor is chic and eclectic, creating a perfect setting for a casual hangout or a delightful dining experience.
The pizza menu at Soul Kitchen is not as diverse as one would expect; however, it's worth noting that this restaurant primarily focuses on Macedonian food, which is why their pizza selection is limited.
However, that's not to say that the pizzas are not exceptional, quite the contrary.
Their classic 'Margherita' and 'Capriciosa' are a testament to their commitment to quality ingredients, made with a homemade tomato sauce bursting with flavor and fresh, locally sourced toppings.
Moreover, their prices are incredibly reasonable, with pizzas ranging from 250 MKD (around $4) to 350 MKD (about $6), making it an ideal spot for budget-conscious diners who still want to indulge in delicious, artisanal pizzas.
Besides the gorgeous decor and super-friendly staff that are not only eager to provide you with the best experience but also share their knowledge about local Macedonian cuisine, Soul Kitchen is also easily accessible as it is only a 2-minute walk from the Alexander The Great fountain in the city's square.
Therefore, whether you're a local or a tourist, a meal at Soul Kitchen will surely be a highlight of your Skopje food journey.
Pizza Costarica
A haven for adventurous pizza lovers.
Tucked away in the corner of Skopje City Park, Pizza Costarica is a culinary treasure that beckons pizza enthusiasts with its innovative and exotic pizza offerings.
The eatery strikes a unique balance between a laid-back atmosphere and an upbeat, modern vibe, creating a welcoming space for diners of all ages and walks of life.
However, the daring and unconventional menu is the cornerstone of Pizza Costarica.
While classics like 'Margherita' and 'Pepperoni' are available, the bold combinations, such as the Burger Pizza with beef, onion rings, and a special sauce, truly set this restaurant apart.
For the more adventurous foodies, there's the 'Tuna Pizza' with tuna chunks, red onion, black olives, and garlic aioli – an absolute must-try for seafood lovers.
In terms of pricing, Pizza Costarica fits comfortably into the mid-range category.
Pizzas start at around 400-500 MKD ($7-9), and specialty creations, such as their crowd-pleasing Costarica Pizza, made with homemade tomato sauce, yellow cheese, mushrooms, ham, black olives, bacon, pepperoni, sour cream, and topped off with oregano and sesame seeds for extra flavor.
However, given the generous portion sizes and the high-quality ingredients, each pizza offers splendid value for money.
---
Our Criteria for Selection
When selecting the best pizza restaurants in Skopje, several criteria were taken into consideration. These criteria include:
Quality of pizza: The quality of the pizza is the most important factor in determining the best pizza restaurants in Skopje. The pizza should be freshly made with high-quality ingredients, and the crust should be crispy, chewy, and flavorful.
Menu variety: A good pizza restaurant should offer a variety of toppings and styles to cater to different tastes and preferences. The menu should include classic toppings like pepperoni and mushrooms, as well as more unique options like truffle oil and goat cheese.
Service: The service should be friendly, efficient, and attentive. The staff should be knowledgeable about the menu and able to make recommendations based on customers' preferences.
Ambiance: The ambiance of the restaurant should be comfortable and inviting. The decor should be tasteful and reflect the restaurant's style and theme.
Value for money: The prices should be reasonable and reflect the quality of the pizza and the overall dining experience.
Based on these criteria, the top pizza restaurants in Skopje were selected and ranked according to their overall performance.
The reviews and ratings from customers on popular restaurant review websites were also taken into account to ensure the accuracy and reliability of the ranking.
---
Skopje has a great selection of pizza restaurants to choose from, whether you're looking for traditional Italian-style pizza or something with a Macedonian twist.
From the classic Neapolitan-style pizza at Matto Napoletano to the seafood pizza at Soul Kitchen, there's something for everyone.
When it comes to finding the best pizza in Skopje, it's important to consider factors such as price, location, and overall dining experience, and while the restaurants listed in this article are some of the best options, there are plenty of other great pizza places to explore in Skopje.
---
This guide was first published on March 23, 2023 and was last updated on October 17, 2023. For more information, please contact us at contact@skopjeguide.com.