Welcome to the vibrant city of Skopje, the capital of Macedonia, where the nightlife thrives with pulsating energy, charming locals, tourists, and cocktail connoisseurs alike.
This city is home to an impressive array of cocktail bars, each boasting unique blends and innovative concoctions and this guide will navigate you through the best cocktail bars in Skopje.
We'll be revealing the city's hidden gems where mixology becomes an art form, guaranteeing an unforgettable drinking experience.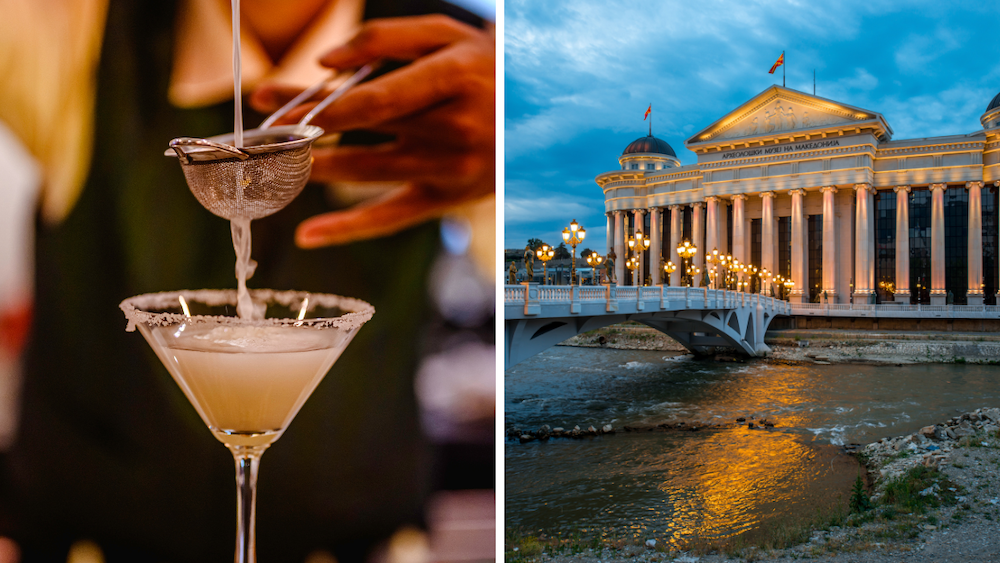 The Heart Bar
Nestled within the heart of the city, The Heart Bar has firmly established itself as a must-visit destination in Skopje's cocktail scene.
This bar exudes warmth with its intimate ambiance, stylish decor, and welcoming staff who are passionate about their craft.
The real draw, however, lies in their exceptional cocktail menu.
From classic concoctions to innovative blends, each drink is meticulously crafted using fresh, high-quality ingredients, with the mixologists demonstrating a flair for creativity that is truly second to none.
Whether you're a cocktail aficionado or a curious newbie, The Heart Bar promises an unrivaled experience that will leave your palate dancing with delight.
Owl Mixology Bar
Taking a step into Owl Mixology Bar is like immersing yourself in a world where the science of mixology reaches its peak.
Located in the bustling center of Skopje, this cocktail bar has quickly earned a reputation as one of the best in the city thanks to its unique, captivating atmosphere.
The interior design is both cozy and contemporary, providing an inviting setting to unwind and savor the intoxicating flavors on offer.
The bar's mixologists are noted for their astounding attention to detail, each cocktail being an exquisite symphony of flavors so memorable they are sure to etch themselves onto your palate.
With a menu that takes you on a journey around the world, from classic mixes to innovative, locally inspired concoctions, Owl Mixology Bar leaves no stone unturned in its mission to delight the senses of its patrons.
It's more than just a bar—it's a destination where every cocktail lover should pilgrimage at least once.
Distrikt Bar & Kitchen in Marriot Hotel
Situated inside the Marriot Hotel, right in the vibrant main "Macedonia Square" in the city centre, Distrikt Bar & Kitchen is as much a feast for the eyes as it is for the palate.
This hotspot effortlessly fuses the charm of a vintage ambiance with the contemporary appeal of an upscale cocktail bar, creating an atmosphere that's both chic and relaxed.
Dim lighting and plush seating together create a space that invites patrons to settle in and stay awhile. But let's talk about what you're really here for – the cocktails!
Distrikt's menu is an extravagant parade of cocktail artistry, from beloved classics to innovative creations that push the boundaries of mixology.
Each concoction is the result of careful craftsmanship and a deep understanding of flavors, meticulously mixed with premium spirits and fresh ingredients. Their skilled mixologists make every drink a performance in itself.
The food at Distrikt Bar & Kitchen is equally impressive, offering a selection of gourmet delights that perfectly complement their liquid counterparts.
Casa Cubana
If you're looking for an unforgettable cocktail experience with a hint of exotic allure, look no further than Casa Cubana, splendidly set on the picturesque Vardar River bank.
This Cuban-inspired bar transports you straight to Havana, with its vibrant, colorful decor, rhythmic Latin music, and a lively ambiance that resonates with the spirit of 'la buena vida'.
Casa Cubana is not just a cocktail bar, it's a celebration of Cuban culture, and this is heavily reflected in their drinks menu.
Their mixologists, true maestros in their craft, bring the flavors of Cuba alive in their cocktails.
The Mojito, a Cuban classic, is a standout, with its perfect balance of white rum, zesty lime, sugar, refreshing mint, and a splash of soda.
Meanwhile, their innovative cocktails–like the Havana Especial, a delightful fusion of dark rum, pineapple, and a hint of coconut–offer a contemporary twist on tradition.
Whether you're seated inside, surrounded by chic Cuban-themed interiors, or outside, taking in the mesmerizing views of the Vardar River, Casa Cubana ensures a cocktail experience that is nothing short of extraordinary.
Speakeasy Cocktail Bar
Tucked away in the bustling streets of Skopje lies a hidden gem that harks back to the bygone era of the 1920s – the Speakeasy Cocktail Bar.
This intimate, Prohibition-themed bar transports you to another age with its vintage decor, dim lighting, and smooth jazz playing softly in the background.
The atmosphere here is one of understated sophistication, reminiscent of the illicit underground bars of the Roaring Twenties. But the real treasure of Speakeasy lies in its cocktail menu.
Each drink is masterfully crafted by expert mixologists who combine classic techniques and innovative ideas with an array of premium spirits and fresh ingredients.
From timeless classics like the Old Fashioned and Manhattan to unique house specials that draw inspiration from local Macedonian flavors, every cocktail tells a story.
The "Baba Marta", a local favorite, is a beautiful marriage of Macedonian rakia, fresh lime, sugar, and a touch of mint, delivering a delightful freshness that enchants the palette.
At Speakeasy, each cocktail is not just a drink, it's an experience – an invitation to step back in time and savor the sheer artistry and passion poured into every sip.
If you're a cocktail enthusiast on the hunt for an authentic, unforgettable experience, the Speakeasy Cocktail Bar in Skopje is an absolute must-visit.
Kafe Kotur
Situated in the heart of Skopje, Kafe Kotur is a unique realm of elegance and creativity.
This stylishly appointed establishment is a heaven for those who appreciate the art of the cocktail, serving a stunning array of concoctions that are as artful as they are delicious.
Kafe Kotur's edgy, modern decor, with its tasteful blend of contemporary design elements and classic Macedonian touches, provides the perfect backdrop for an unforgettable night out.
The ambiance is one of casual sophistication, with a lively buzz that draws a diverse crowd, from local creatives to traveling connoisseurs.
The team of expert mixologists are the stars of the show, crafting each cocktail with precision and panache, using an impressive array of premium spirits and fresh, locally-sourced ingredients.
Highlights include their unique takes on classic cocktails and innovative creations that surprise and delight with every sip.
Kafe Kotur is more than just a cocktail bar; it's a charismatic cultural hub that offers a unique blend of quality drinks, artful aesthetics, and great vibes, making it a must-visit destination for any cocktail aficionado in Skopje.
---
Our Selection Criteria
When it comes to selecting the best cocktail bars in Skopje, we left no stone unturned. Our choices were made based on an array of factors that come together to create a truly exceptional cocktail experience.
• At the top of our list was the quality of the cocktails themselves.
We prioritized establishments that value creativity and craftsmanship, where each cocktail is not just a drink but a masterpiece meticulously crafted by expert mixologists.
• Next, we looked at the ambiance and décor.
We sought out bars that provide a unique atmosphere, from the vibrancy of Casa Cubana to the Prohibition-era sophistication of Speakeasy Cocktail Bar. Variety was another key factor – we favored bars that offer a diverse menu of both classic cocktails and innovative concoctions.
• Lastly, we considered the overall experience.
Factors such as the level of service, the quality of the food offerings, and the bar's location were all taken into account. We believe that the bars listed here have met and exceeded these criteria, each providing a unique and memorable cocktail experience that is sure to delight any cocktail enthusiast visiting Skopje.
As you can see, Skopje is an up-and-coming cocktail hotspot offering a diverse range of establishments that cater to all tastes and preferences.
Whether you're searching for a classic cocktail in a sophisticated setting, an innovative concoction in a vibrant atmosphere, or a cultural experience with drinks steeped in tradition, Skopje has a bar that can deliver.
These five cocktail bars mentioned above are just a glimpse into the city's thriving cocktail scene, each one offering an unforgettable experience that will leave you yearning for more.
So, next time you're in Skopje, make sure not to miss these gems!
---
Frequently Asked Questions
Q: Are these cocktail bars located in the city center?
A: Yes, most of these cocktail bars are conveniently located in the bustling city center of Skopje.
Q: Do these bars only serve cocktails?
A: While these establishments are recognized for their exceptional cocktails, many also serve a range of other beverages and offer delicious food menus.
Q: Is it necessary to make a reservation before visiting these cocktail bars?
A: While it's not always necessary, it's advisable to make a reservation, especially during weekends or holiday seasons to ensure a spot.
Q: Do these bars offer non-alcoholic options?
A: Yes, most of these bars offer a variety of non-alcoholic beverages, ensuring there's a drink for everyone.
Q: What is the average price range for cocktails in these bars?
A: The price range varies for each bar and the type of cocktail, but generally, you can expect to pay between 200 and 500 MKD for a cocktail in Skopje.
Q: Are these bars suitable for group gatherings or private events?
A: Yes, most of these bars can cater to group gatherings, and some even offer private event services. However, it's best to contact the bar in advance to make arrangements.
Q: What time do these cocktail bars usually open and close?
A: Most cocktail bars in Skopje open in the late afternoon or early evening and close late at night. Specific hours vary, so it's advisable to check beforehand.
Q: Are these bars accessible for people with disabilities?
A: While many bars in Skopje are wheelchair accessible, it's recommended to check with each establishment for detailed information regarding accessibility.
Q: Do these cocktail bars have outdoor seating options?
A: Yes, many cocktail bars in Skopje feature outdoor seating areas, particularly during the warmer months. These spaces provide patrons with the opportunity to enjoy their drinks al fresco.