As a prominent member of the renowned international hotel chain, the Marriott Hotel in Skopje promises an unparalleled experience, seamlessly blending lavish comfort with impeccable service and state-of-the-art amenities.
Its prime location also makes it a favorite for both leisure and business travelers seeking a touch of luxury during their time in Skopje.
However, as a 5-star hotel, staying at the Marriott isn't a budget-friendly experience; therefore, we don't blame you for scouring the internet for reviews that will help you decide if this hotel is worth the splurge.
So, what exactly does the Marriott have to offer for its high price, and does it live up to its reputation?
In this review, we will provide an in-depth insight into the Marriott Hotel Skopje, covering everything from cleanliness to service to amenities and more.
So, if you are considering staying at this hotel while visiting Skopje, keep reading to know what to expect, what to look out for, and what to keep an eye on before booking.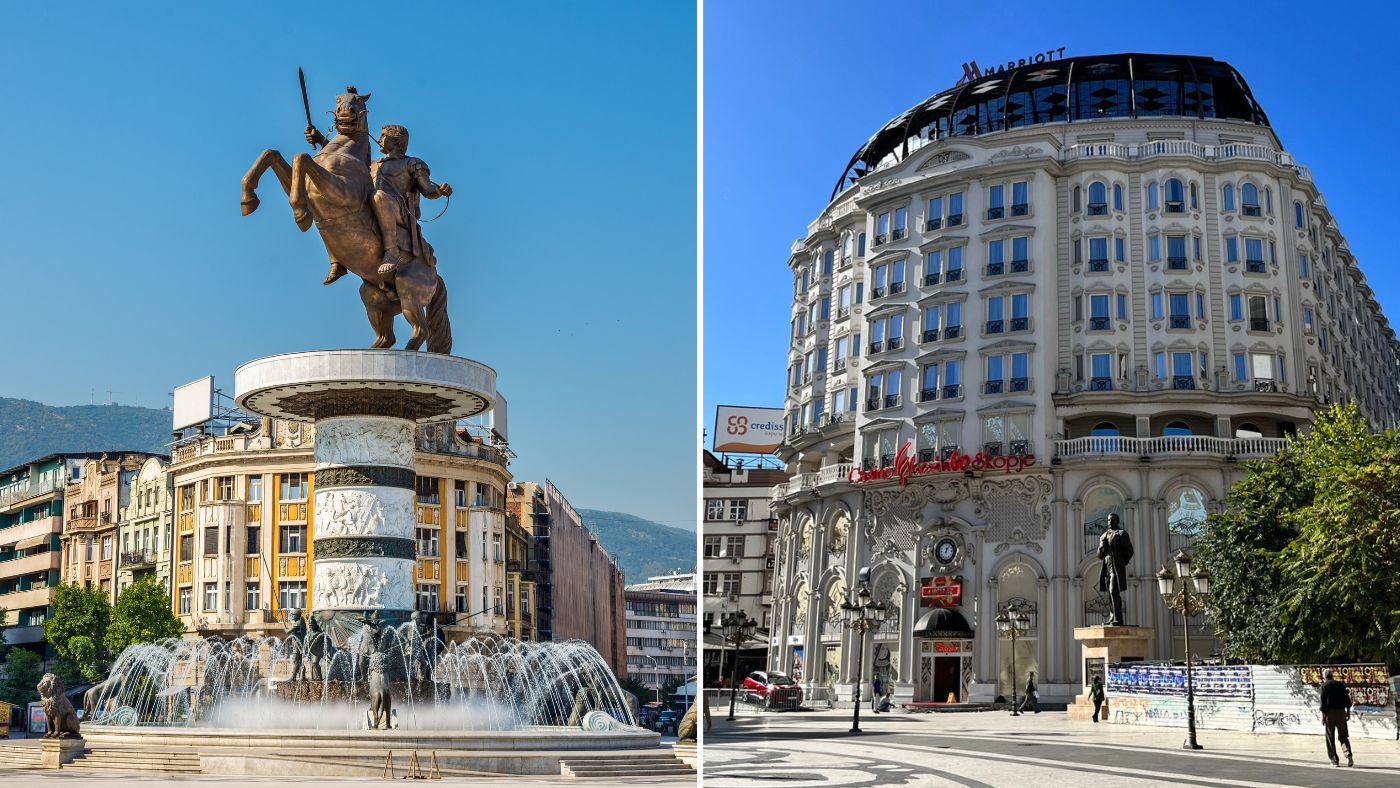 Prime Location in The Heart of Skopje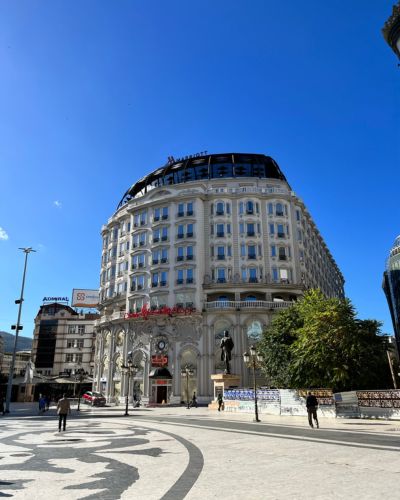 As mentioned in the intro, the Marriott Hotel in Skopje is situated in Macedonia Square, the main square of the country's capital city.
As such, the Marriott is conveniently located amidst numerous amenities.
This includes a variety of dining options, including higher-end restaurants and fast-food joints, along with bars, cafés, and small shops.
Across the square, you will also find Skopje's oldest mall, GTC, where you'll find major and local clothing, accessories, and cosmetic brands.
The mall also houses two supermarkets, Vero and KAM Market, money exchange offices, ATMs, and electronic stores for essentials like adapters.
Additional services such as barbers, hairdressers, and a pharmacy are also available inside the mall.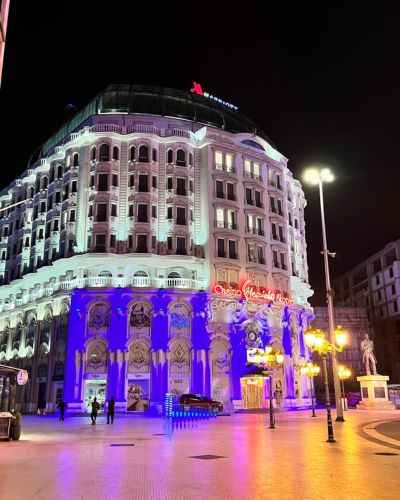 Moreover, the location of the Marriott Hotel is perfect for travelers who want to explore Skopje on foot and be close to major tourist attractions.
You can easily walk from the hotel to landmarks such as the Stone Bridge, the Old Bazaar, the Kale Fortress, and the Mother Teresa Memorial House, which are no longer than a 5-minute walk.
Plus, if you want to take a taxi, plenty of options are available right outside the hotel's doors.
At the same time, Skopje's main street, Macedonia Street, is only a two-minute walk away and is constantly buzzing with public transport that can take you to many locations in the city.
The Marriott's location, with the bustling cityscape, vibrant eateries, and major tourist attractions just a stone's throw away, definitely added allure to our stay and is one of the reasons why we chose the hotel in the first place.
Navigating The Reservation and Booking Experience
You can book your stay at the Marriott Hotel in Skopje either through their official website or Booking.com, which is the option we chose because they seem to offer the best prices.
The booking process was quick and easy, and it didn't take us more than a few minutes to complete.
We had booked a standard room for two adults for the first week of November, which cost us around $200 per night.
This room style seems to be the most popular choice, as the Marriott isn't really a kid-friendly hotel given that it's more of a business and luxury-oriented establishment, so the room options are somewhat limited.
Therefore, if you plan on traveling with children or pets, definitely contact the hotel to request any special arrangements, such as high chairs, baby cribs, pet-friendly rooms, etc., before booking to ensure they can accommodate your needs.
The price we paid per night was high, considering that the hotel didn't offer any special deals or promotions during our stay and that we booked the room relatively soon before our travel dates.
However, what you pay ultimately depends on the time of year you are visiting, and if you book earlier, you might be able to snag a better offer.
Keep in mind that while the hotel does offer free cancellation up until a certain date, some bookings may require full payment upfront.
So, read the terms and conditions carefully before making your reservation.
As the dates for our travel started approaching, we received an email from the hotel asking us for our estimated arrival time so that they could try to accommodate us without any long waiting time.
They also asked us if we had any special requests and if we had any transportation requirements.
We had already booked our transport with a private taxi; however, had we known about the hotel's shuttle service, we might have opted for that instead.
Therefore, making us aware of this earlier during the booking process would have been more helpful to us.
In any case, the Marriott Hotel Skopje offers the following types of transfer to/from the airport:
Skoda Octavia or VW Passat (up to 4 people) – 30 Euros
Mercedes E Class (up to 3 people) – 40 Euros
Mercedes S Class (up to 3 people) – 55 Euros
Minivan (up to 8 people) – 60 Euros
That said, overall, we were satisfied with the booking experience and found it efficient and hassle-free.
First Impressions: The Hotel Lobby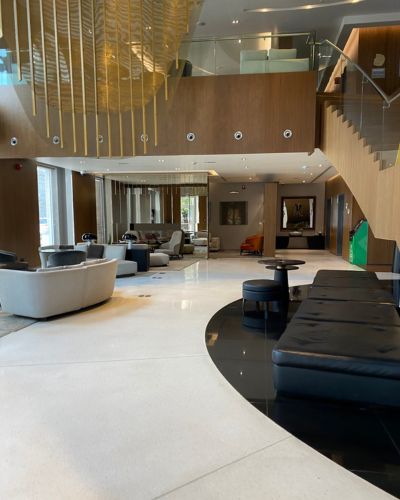 As we arrived at the hotel lobby after a long day of traveling, we were greeted with a modern and stylish design that gave off a luxurious feel.
The lobby was immaculately clean, quiet, and peaceful, and a pleasant smell lingered in the air.
The space was also stylishly and tastefully adorned with earthy color tones that exude a sense of tranquility combined with brown details that add warmth and a sense of luxury to the area.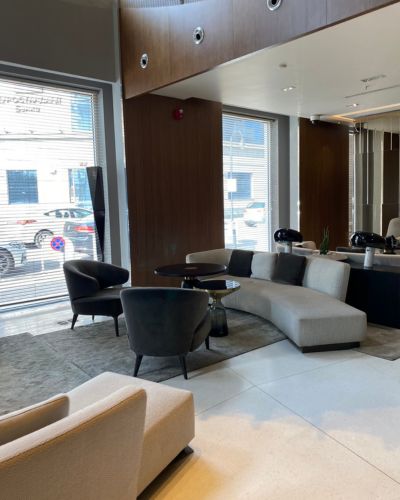 The lighting was also ultra-sophisticated with lots of natural light, making the space feel cozy and inviting, and the comfortable seating arrangements were spaced appropriately, inviting guests to unwind after their journey.
Contemporary yet minimalistic art pieces adorn the walls, adding a tasteful touch of elegance to the space without overwhelming your senses.
In the lobby area, you can also find two iMacs for the guests' disposal, contributing to the hotel's overall business/luxury vibe.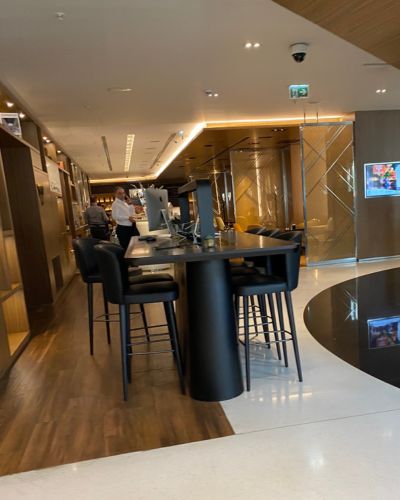 Aside from the elegant decor and design, one of the things we appreciated most about the lobby was how spacious and airy it felt.
Even with other guests present, we never felt crowded or overwhelmed, making it a great place to relax and catch up on some work at any time of day.
The Check-In Experience: Efficiency and Courtesy at The Reception
Now, this is where our mixed feelings about the Marriott Hotel in Skopje began.
We arrived at the hotel lobby after a long day of traveling, and as soon as we entered, we were greeted with a modern and stylish design that gave off a luxurious feel.
However, given that we arrived at the hotel at 1 AM, we noticed that the reception seemed unprepared for us even though we had previously informed them of our late arrival time.
After waiting a few minutes in the reception area, the receptionist showed up and started checking us in.
She asked for our passports; however, when we asked to book breakfast for the morning since it was going to be a Sunday and we weren't sure whether the nearby restaurants and fast-food joints would be open early, she tried to persuade us to pay directly at the restaurant which gave us a feeling that she didn't want to be bothered printing out an invoice for us.
Eventually, after some back and forth, she agreed to include it in our bill and reluctantly printed out an extra invoice, which seemed unprofessional and disorganized.
Once the check-in was complete, we were handed our cards, and that was it.
We weren't given any information about the facilities, the WiFi, the breakfast timings, and not even where the lifts that would take us to our room were, which is how we ended up running around the lobby with our suitcases for a couple of minutes until we finally found them.
Now, inside the room, we found a booklet with all the information regarding the hotel, but it would have been helpful to receive a brief overview at check-in as well.
After all, the Marriott is a 5-star hotel, so good communication with guests is vital, especially upon check-in.
We understand this could've been because the receptionist thought we were tired, as it was early in the morning.
However, we still felt like we were being rushed through the process, and who wants to read an entire booklet to find the most basic information, such as how to connect to the WiFi at that time?
Overall, the reception experience was a bit disappointing and lacked the attention to detail one would expect from such a highly-rated hotel.
However, we were still hopeful about the rest of our stay.
Comfort and Style: Assessing The Room Quality
As mentioned above, we booked our room relatively soon before our travel dates, so we didn't have much choice regarding the room type.
Therefore, we booked a standard room for two adults with a double bed and a side view of the square.
Our room was on the fifth floor, and the view overlooked the Café Trend below, which is somewhat on the corner of the square.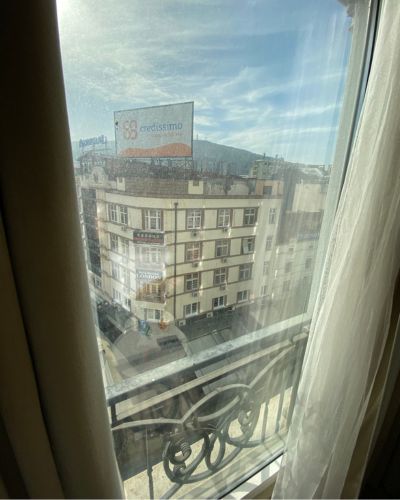 The room wasn't that spacious; however, there was enough room for the two of us to move around and store our luggage.
It also had a decent storage space, several hangers, and a built-in wardrobe.
However, if you have a lot of luggage or are planning a longer stay, it might be worth considering booking a larger room or asking for extra hangers.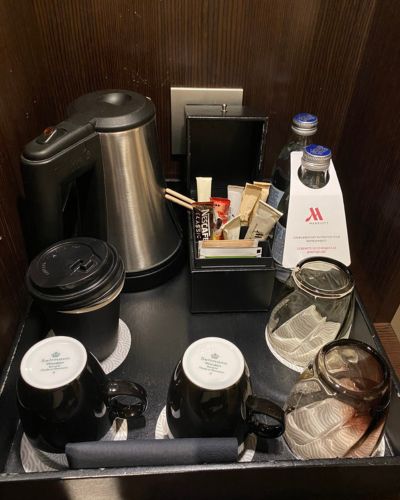 The decor was simple yet elegant, with neutral colors that gave off a cozy and comfortable feeling.
As for cleanliness, the room was spotless and tidy when we arrived.
We were also pleasantly surprised to find complimentary water bottles, coffee, tea, milk, and sugar in the room, which is always a nice touch.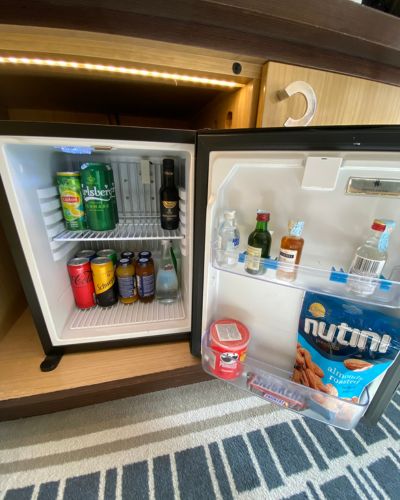 The room also had a kettle, a mini-fridge stocked with soft drinks, juices, beers, wine, liqueurs, water, and snacks that are charged per consumption, and a safe for valuables, which was free of charge to use.
There was also a big plasma TV inside the room, but the number of channels and variety was limited, and Netflix and YouTube weren't available, which was a bit of a letdown.
The bed was also comfortable, with four soft pillows, a heavy quilt, and clean sheets.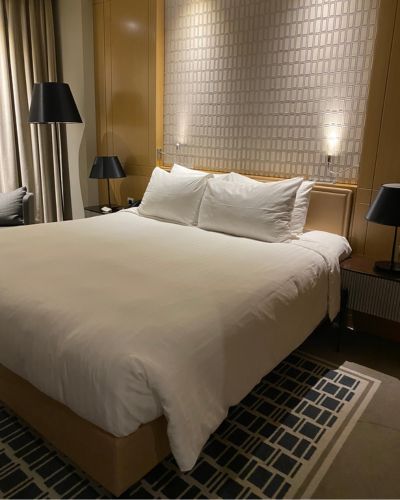 We also appreciated that the room had double-glazed windows, which helped keep out the noise from the busy square below.
However, the room didn't have a balcony, and the smaller windows were also closed shut, while the bigger ones could be opened for fresh air.
Overall, we were satisfied with the room; however, there were a few design issues that would be easy to fix but made our stay a little less than ideal.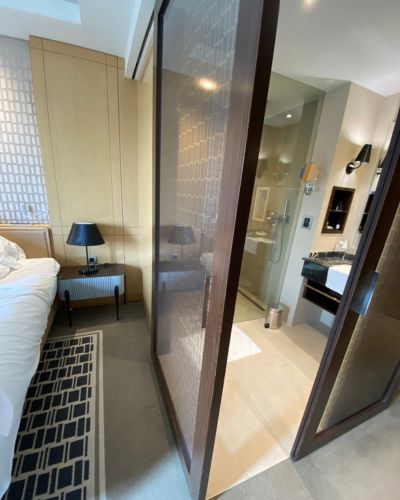 The first issue was that the door between the bedroom and the shower area was a sliding glass door, so we could have a view of the shower from the bed, which isn't the most comfortable arrangement due to privacy concerns.
The second issue was that one of the sliding doors was broken and lifting upwards, so we had to maneuver it so that it slid properly to close it.
Again, it was not a huge inconvenience because we were able to close it, but it was just something that could've been easily fixed had it been reported by the housekeeping staff responsible for preparing the room for us.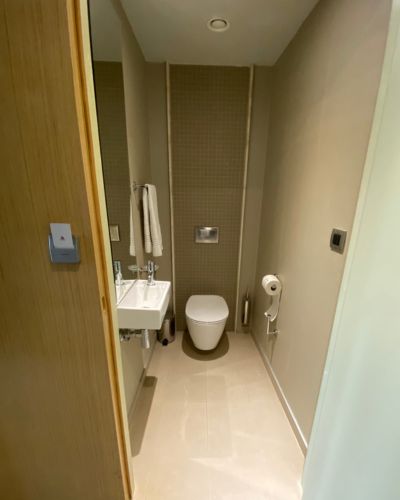 Another and slightly bigger inconvenience was that the toilet was in a separate and much smaller enclosure further down from the shower area.
Besides being mildly claustrophobic, it was also inconvenient because whoever needed to use the toilet would have to walk past the shower area where the other person could be showering.
Or, if we wanted to shower after using the toilet, we would have to walk out of the toilet enclosure and go back into the room to reach the shower area.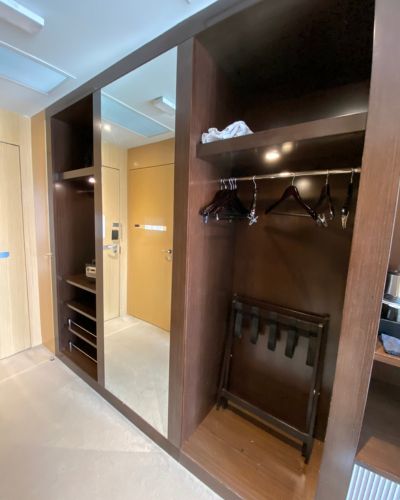 Again, this wasn't a massive problem for us, but it might bother some people who value privacy more.
Additionally, the problem was compounded by a motion detector in the toilet, which automatically turned on the main lights whenever the door was opened.
Even in normal circumstances, we do not want to turn on the main lights to go to the toilet during the night (we use the light of our phone for that, which is sufficient); however, as soon as we would open the toilet door, the main lights in the room would turn on as well, which was quite annoying and even woke up the other person who was sleeping a few times.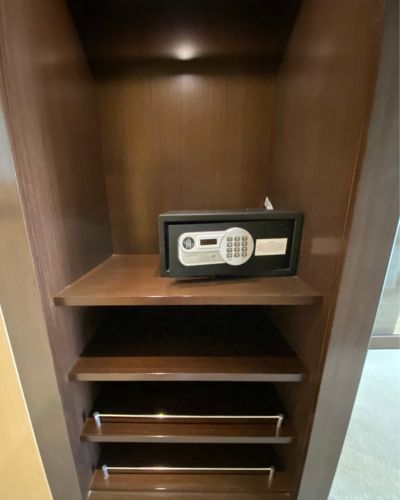 Again, these issues are minor and would be very easy to fix, and we understand that these things can happen in any hotel.
However, for a 5-star hotel like Marriott, with such high standards and prices, we expected everything to be perfect, or at least any issues to be resolved promptly.
Instead, we dealt with a broken sliding door, a lack of privacy while showering, having to go out of the toilet and walk to the shower, and being woken up by unnecessary lights, which definitely makes it hard to give a perfect rating, because that is quite a fundamental requirement.
While overall, the room was comfortable, clean, warm, cozy, quiet, and well stocked with necessities, from complementary water bottles, glasses and coffee mugs, toiletries, towels, hangers, etc., these design flaws definitely impacted our experience and left us feeling a bit disappointed and underwhelmed.
We hope that the hotel takes note of these issues and addresses them for future guests to ensure a better stay for all.
Evaluating The WiFi Service
As remote workers and frequent travelers, one of the things that we look for in a hotel is a fast and reliable WiFi connection that will allow us to continue working while on the road.
Now, given that this is a 5-star hotel, we had high expectations for the WiFi, and luckily, our expectations were met.
The WiFi connection was fast, stable, and had good coverage throughout the hotel, including our room on the fifth floor.
We could work without interruptions or lag time, which is always a relief when working remotely.
However, one of the most annoying things about the WiFi at the Marriott Hotel in Skopje was having to log in through this airport-style authentication page, but luckily, it wasn't like at airports where it logs you out when you lock your device, and you'd have to do it again, it was only a one-time login.
We understand this may be a security measure; however, it would still be nice to skip that step and directly connect to the WiFi.
Overall, the WiFi at the Marriott Hotel in Skopje was fast, reliable, and met our needs as remote workers.
We recommend this hotel to anyone who needs a good WiFi connection while traveling.
Culinary Offerings: Dining Experience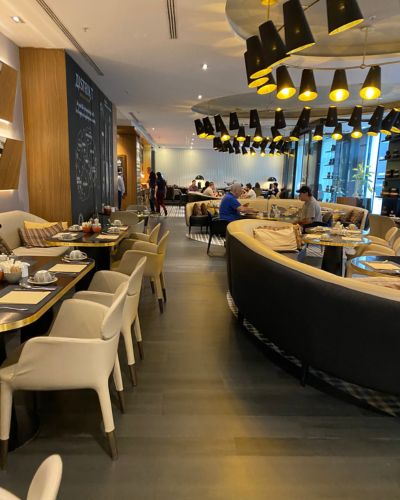 While we only planned on having breakfast for one day at the hotel, we were pleasantly surprised by the dining options available.
The Marriott Hotel in Skopje has two on-site restaurants – one where they serve breakfast and District Bar and Kitchen, a lounge available to the public and not only hotel guests.
We had breakfast at the restaurant on our first morning, which was delicious.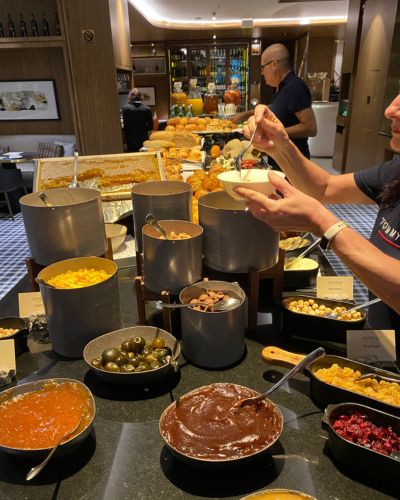 Located on the ground floor, the restaurant offered a wide variety of dining options – from local specialties, such as burek, sujuk (a dry, spicy, and fermented beef sausage popular in the Balkan region) and various local pastry, to more traditional breakfast items like cereal, omelets, bacon, fruit, etc.
We were also asked to choose what type of eggs we wanted, and the pouched eggs we ordered were cooked perfectly.
There was also a fantastic selection of desserts, which, again, was a mix of local specialties such as cakes and pastries and classic options, such as pancakes, waffles, and croissants.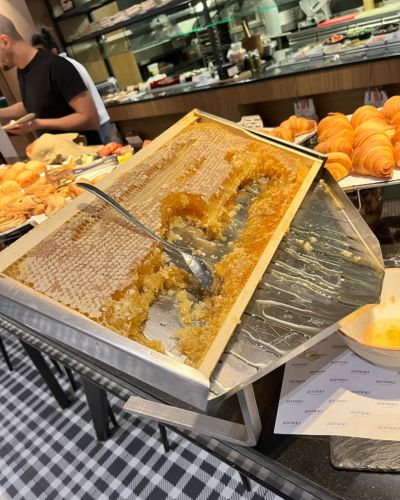 There was also a selection of drinks, including apple, orange, peach juice, still or sparkling water, coffee, and tea.
The staff was also very friendly, accommodating, and attentive, ensuring our plates were cleared promptly, and our coffee cups were always filled.
Unfortunately, we didn't have the chance to dine at District Bar and Kitchen, but from what we saw, it had a trendy and modern vibe with an extensive menu of cocktails, wines, and a mix of international dishes, including pub food, salads, sandwiches, and pasta.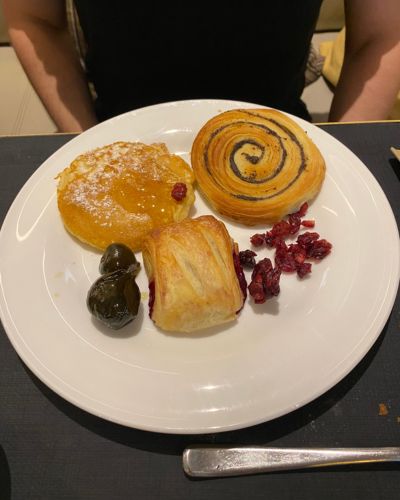 We heard positive reviews from guests and locals who dined there, so we can only assume that the food was just as delicious as our breakfast experience.
They also prepare their meals in an open-plan kitchen, so you can see your food being made fresh, which is interesting.
Overall, the dining options and food quality at the Marriott Hotel in Skopje were great.
All that said, there are a few things we want to mention regarding the food from our experience of spending time in Skopje.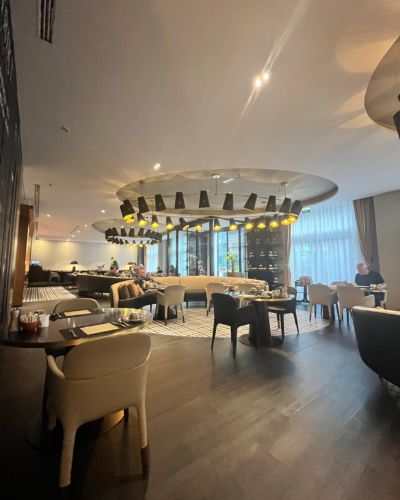 While priced steeply at around $18 per person, the breakfast at the Marriott Hotel is a convenient option for first-time visitors unfamiliar with the area.
The variety is decent, the food is delicious, and the service is fantastic.
However, Skopje's culinary scene doesn't disappoint. Quality food is a staple across Macedonia's capital, even in the most budget-friendly eateries.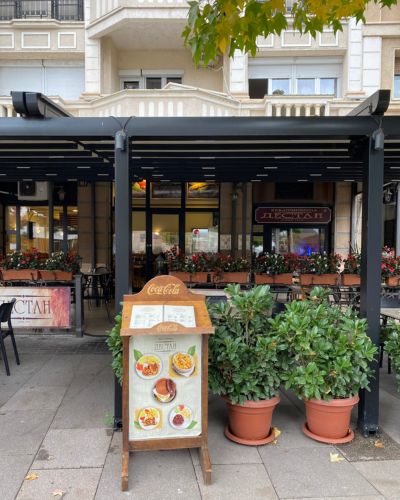 Several local dining options offering authentic and affordable meals are within arm's reach of the hotel and will cost you a fraction of the price you would pay for breakfast at the hotel.
So, if you're feeling adventurous and want to experience the local cuisine, we recommend trying some nearby restaurants or cafés for a more cost-effective option.
Some popular options that you can find in the square alone include 'Destan' and 'Soul Kitchen,' which offer traditional Macedonian food with a modern twist, 'Café Trend,' which offers modern international cuisine; and 'Kolektiv,' a restaurant that serves a fusion of contemporary international and traditional dishes, including bean soups, hearty stews, traditionally-prepared meatballs and burger patties, etc.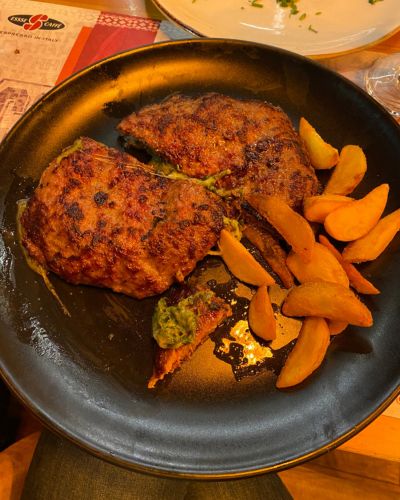 Ultimately, whether you choose the convenience of the Marriott's dining experience or venture out to explore local flavors, Skopje promises an enjoyable culinary journey.
Exploring The Hotel's Amenities
The Marriott Hotel in Skopje has a gym and a spa center where guests can relax in the indoor pool, whirlpool, and a small lounge area with warm stone beds or get a massage, facial, or other relaxing treatments.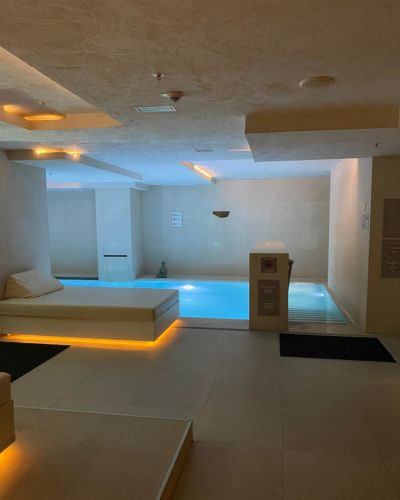 Now, we didn't use the spa center, but from what we could see, it looked clean and modern, with a variety of services available and a very friendly staff that allowed us to go around and take some pictures (while politely asking us to keep the patrons who were using the facilities out of the frame) and were more than happy to provide in-depth information about the available treatments.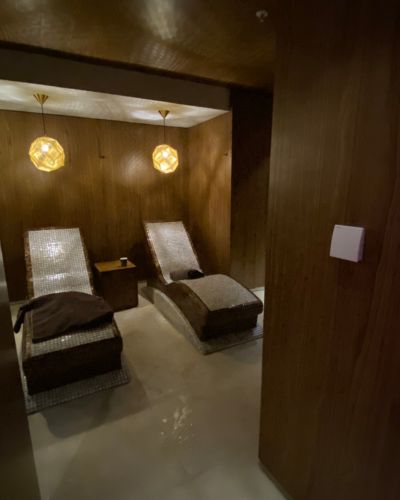 Located on the 4th floor inside the hotel, the spa center can definitely be described as small considering the hotel's size.
However, it is still a very nice amenity to have on-site and provides everything you need to relax and unwind during your stay.
It was also surprisingly quiet even though multiple people were using the facilities, making it perfect for a peaceful and rejuvenating experience.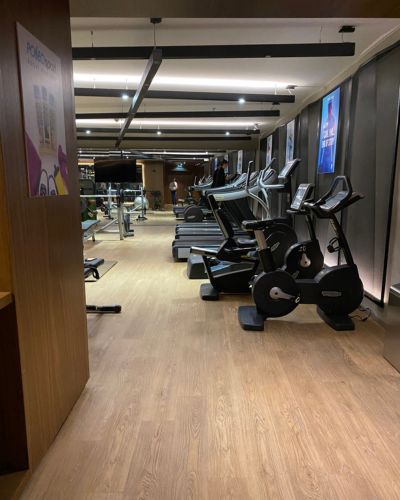 In addition to the spa center, the Marriott Hotel in Skopje also has a fully-equipped gym on the 5th floor that is available to guests 24/7.
The gym, just like the spa, is small but has a decent variety of equipment, including treadmills, stationary bikes, a full range of free weights, and a variety of weight machines.
The gym also has small changing rooms with lockers and a shower area, which was super clean and well-maintained.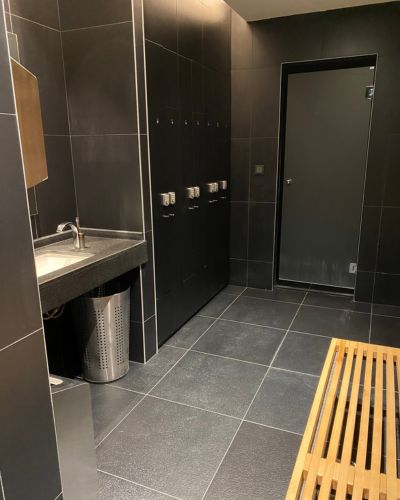 The overall gym was also clean; however, although there was a reception desk next to the entrance door, no one was operating it, so we weren't sure if the gym was supervised.
On the desk, there was also a logbook of sorts where guests could log their gym usage, so we assumed that it was self-operated.
While we didn't get a chance to use the gym, we believe it would have been helpful if the hotel staff had proactively shared details about usage during check-in.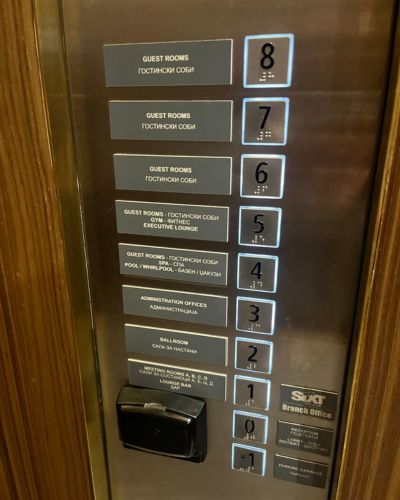 Important information could include where to find gym towels, any specific dress code to follow, etc.
This could also be provided by dedicated gym staff, if available; however, after checking out the gym and waiting for about ten minutes, we didn't see anyone around, so we left.
The gym experience starkly contrasted with the friendly and attentive service we received from the spa staff earlier that day.
Other than that, the facilities and amenities at the Marriott Hotel in Skopje seemed clean and cozy, although limited in space.
Staff and Service Quality
Throughout our stay at the Marriott Hotel in Skopje, we found the staff generally friendly, accommodating, and attentive, contributing significantly to our experience.
In the dining area, the service was excellent, with staff ensuring we always had what we needed and keeping our dining space clean and organized.
Although we didn't dine at the District Bar and Kitchen, the staff appeared welcoming, greeting us and wishing us a good day every time we passed next to the bar on our way to the restaurant, elevator, or lobby.
Despite our decision not to use the facilities at the spa center, the staff made us feel comfortable, allowing us to look around while providing detailed information about the services.
However, the absence of staff at the gym was noticeable and somewhat affected our overall impression.
The service was inconsistent in this area, and we felt that more information and guidance about gym usage should have been provided either during check-in or by dedicated gym staff.
Now, one aspect of our stay at the Marriott Hotel in Skopje that was slightly disappointing was our interaction with the front desk reception staff at check-in.
We were underwhelmed by the lack of proactive communication about the hotel's amenities upon check-in, causing this oversight to make us unaware of certain services and facilities that could have enhanced our stay.
Additionally, when we requested to book and pay for our breakfast in advance, the reception staff tried to persuade us to sort it out the next day but then somewhat reluctantly agreed to our request and printed out our invoice nonchalantly.
This casual attitude and the lack of proactive communication were somewhat off-putting and not what we expected from a Marriott hotel.
Now, it's important to note that this instance did not significantly mar our overall experience, but addressing these areas could undoubtedly elevate the quality of service provided at the front desk.
That said, the day reception was definitely a stark contrast to the nonchalant attitude of the night reception.
The next day, after checking in, we asked for a taxi to take us to Matka Canyon, and the receptionist happily called one for us and just seemed pleased to be of help, which was a refreshing experience.
Lastly, we didn't interact with the housekeeping staff besides the brief passing in the hallways, but they were always happy to greet us and wish us a good day or evening.
Therefore, despite the few notes we made about how the night reception handled our check-in process, the overall staff service at the Marriott Hotel in Skopje was commendable, with minor areas for improvement.
Weighing The Value for Money: Price vs. Experience
Throughout our stay at the Marriott Hotel in Skopje, the experience was generally positive, with a few points of concern.
The amenities, including the spa and gym, were well-maintained but could have benefited from more space and, in the case of the gym, staff supervision.
The staff as a whole was friendly and accommodating, with particularly commendable service in the dining area and spa.
However, the initial check-in at the front desk was less satisfactory due to a lack of proactive communication about the hotel's facilities and a somewhat casual attitude.
Regarding value for money, however, we can't say that the Marriott Hotel in Skopje is worth the high prices they are charging.
There are several reasons for this, including the size and limited facilities of the hotel, which do not justify the premium rates.
While it is understandable that prices in a premium location such as the city's main square may be higher, we expected more for the price we paid.
The rooms, although cozy with very comfortable beds and pillows, are a little outdated, with strange design issues and inconveniences you shouldn't experience when residing at a 5-star hotel.
The breakfast, although delicious and varied, was not included in our room rate, and we had to pay an extra $18 per person, which definitely isn't worth it, considering the fact that there are many local eateries around the hotel where a decent meal would cost you a fraction of that price.
Furthermore, if you are only visiting Skopje for a short time, and your main goal is to see as many attractions as possible, such as the Millennium Cross at Vodno Mountain, Matka Canyon, the Old Bazaar, the Kale Fortress, etc., and you won't be spending much time inside anyways, then the Marriott Hotel in Skopje is definitely not the best value for your money.
There are plenty of nearby hotels and Airbnbs that start at $30-$40 a night, which would be a better option if you are on a budget and don't need the prime location as well as the extra amenities and services provided by the Marriott.
The Marriott Hotel in Skopje is clearly a business-style hotel, and if you are traveling for business purposes or with a group that can afford to split the cost of a premium room, then by all means, consider this hotel an option.
However, for us, it was not worth the high prices we paid, considering our preference for exploring the city rather than spending time indoors.
Ultimately, regarding value for money, we would rate the Marriott Hotel in Skopje as average, with room for improvement.
So, it's important to consider your priorities and budget when deciding whether this hotel is worth the cost of your stay in Skopje.
---
---
Our overall experience at the Marriott Hotel in Skopje was a mixed bag.
The prime location, room cleanliness, friendly staff, and delicious food were definite highlights.
However, the lack of robust communication and attention to detail at reception, the limited space and staff for the gym, and the outdated room design leave room for improvement.
The cost of our stay was relatively high compared to what the hotel offers regarding facilities and services, and the additional charge for breakfast, which was relatively high, was a definite downside.
If you're a business traveler or part of a group that can split the cost and prioritize location and amenities over price, this hotel could be a suitable choice.
However, for budget-conscious travelers or those intending to spend more time exploring the city than in the hotel, there are more affordable options available that offer better value for money.
In conclusion, we recommend the Marriott Hotel in Skopje, but with cautionary advice to thoroughly consider your preferences, budget, travel intentions, and potential downsides before booking.
While we read many positive reviews about this hotel before our trip, we also encountered some reviews that pointed out the negative aspects we experienced as well.
This is why it's essential to research thoroughly and consider a variety of opinions before deciding, especially when booking high-priced accommodation for your trip.
Overall, the Marriott Hotel in Skopje has potential for improvement in certain areas but is still a decent choice for those looking for a comfortable stay in a prime location in the city.
---
This guide was first published on November 14, 2023 and was last updated on November 14, 2023. For more information, please contact us at contact@skopjeguide.com.