If you're planning a trip to Skopje, the capital of Macedonia, you may be wondering if Ohrid is worth a visit.
After all, it's only about two hours away by car and Ohrid is one of the most popular tourist destinations in the country.
In this article, I'll cover what Ohrid has to offer and whether or not it's worth making the trip from Skopje.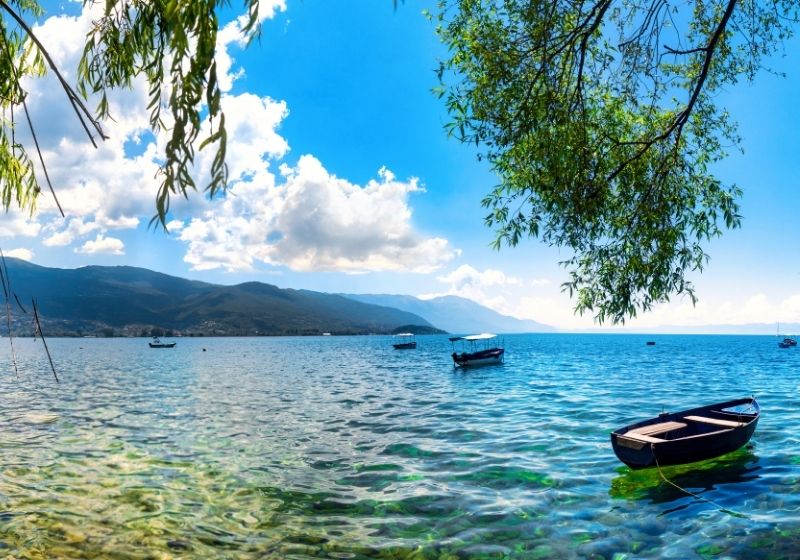 Where Is Skopje?
Skopje is located in the north of Macedonia, about 50km from the border with Albania and Kosovo.
It's the country's largest city, with a population of around 550,000.
Ohrid, on the other hand, is located in the southwest of the country, about 170km from Skopje.
It's a much smaller city, with a population of around 42,000.
What's The Difference Between Skopje And Ohrid?
Skopje is the capital city of Macedonia, so it's more urban and cosmopolitan than Ohrid. You'll find a wider range of shops, restaurants, and nightlife in Skopje.
As would be expected, the capital city is also home to many of the country's government buildings and embassies.
Ohrid, on the other hand, is a smaller and more laid-back city. It's known for its beautiful lake, which is one of the deepest in Europe. Ohrid is also a UNESCO World Heritage Site, due to its rich history and well-preserved architecture.
What's Ohrid Like?
Ohrid is a beautiful town, with a great mix of old and new architecture. The old town is especially lovely, with its winding streets and traditional buildings.
The city is built on a hill, so there are some great views to be enjoyed. And, of course, there's the lake.
Lake Ohrid is simply stunning, and it's a great place to relax or take part in watersports.
There's also a lot of history to be discovered in Ohrid. The city was once an important center of the Byzantine Empire, and there are a number of well-preserved churches and other historical sites you can visit and discover.
What's There To Do In Ohrid?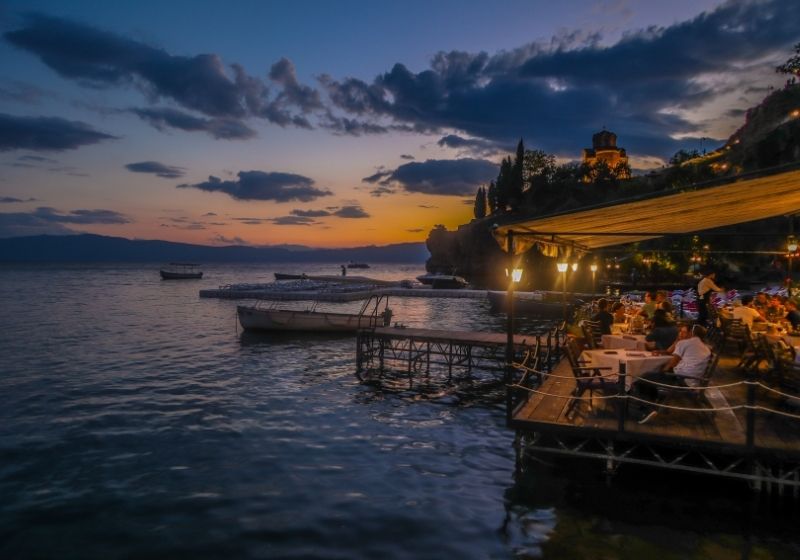 There's plenty to keep you busy in Ohrid, whether you're a history buff, nature lover, or just looking to relax.
Here are some of the best things to do in Ohrid:
Take a boat trip on Lake Ohrid.
Explore the Samuel's Fortress.
Stroll around the pretty old town.
Relax on one of the many beaches.
Go hiking in Galicica National Park.
Visit the Ancient Macedonian Theatre of Ohrid.
So, Is Ohrid Worth Visiting?
Absolutely! Ohrid is a beautiful city with plenty to offer.
Whether you're interested in history, culture, or just want to relax by the lake, Ohrid is definitely worth a visit.
If you're planning a trip to Skopje, I would definitely recommend adding Ohrid to your itinerary, if possible. You won't regret it!
Just check out this video below to see everything the town has to offer:
How Far is Ohrid From Skopje?
Ohrid is located approximately 160km from Skopje, which is a two-hour drive by car.
How To Get From Skopje to Ohrid?
There are also regular buses and trains that operate between the two cities and Ohrid also has an airport, making it quick easy to get there from Skopje (if you're short on time).
You can see this from thebalkansandbeyond.com for a more detailed explanation.
How Much Time Should You Spend in Ohrid?
I would recommend spending at least two or three days in Ohrid, to give yourself enough time to explore everything the city has to offer.
However, if you're short on time, one day in Ohrid is better than nothing!
Just keep in mind the travel time and also the time needed to explore the attractions that pique your interest.
When Is The Best Time To Visit Ohrid?
The best time to visit Ohrid is between May and September when the weather is warm and sunny.
If you're interested in spending time on the lake, this is definitely the best time to go.
However, Ohrid is still worth visiting outside of these months. The city is lovely all year round, and you'll find fewer crowds (and lower prices) if you travel during the shoulder or off-season.
Where Else Can You Visit Whilst in Macedonia?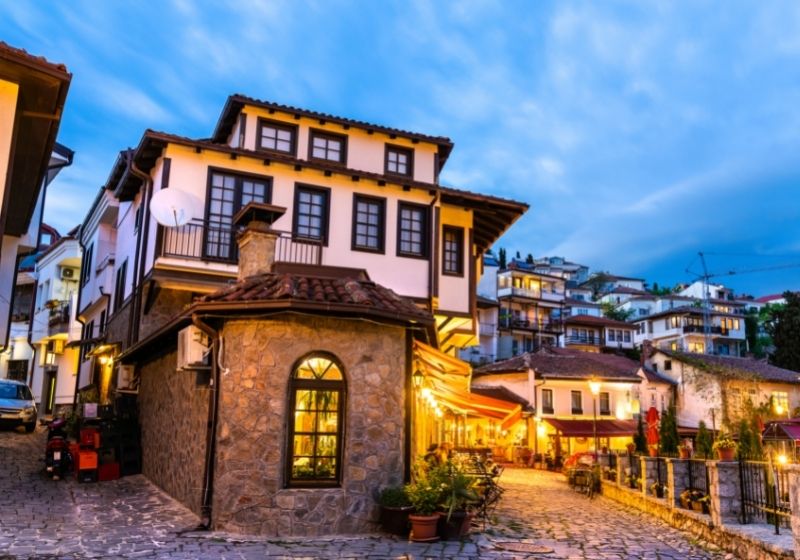 If you're planning a trip to Macedonia, here are some other destinations you might want to add to your itinerary:
1. Bitola – A charming city located in the south of the country, known for its pretty streets and Ottoman architecture.
2. Mavrovo National Park – A scenic national park in the northwest of the country, home to mountains, rivers, and lakes.
3. Matka Canyon – A beautiful canyon located just outside Skopje, perfect for hiking and enjoying the outdoors.
4. Stobi – An ancient city located between Skopje and Ohrid, with ruins dating back to Roman times.
5. Berovo – A small town located in the east of the country, close to the border with Bulgaria. I highly recommend staying at the Aurora Resort if you're planning a trip there.
---
So, there you have it! Everything you need to know about visiting Ohrid, Macedonia.
I hope this short article has convinced you to add Ohrid to your itinerary if you're planning a trip to Skopje. Trust me, you won't regret it!