If you're looking for the best Instagram spots in Ohrid, Macedonia, look no further!
The beautiful city of Ohrid is a popular destination among travelers from all over Europe and the world, and it's home to some truly awe-inspiring views.
From Lake Ohrid and Galicica National Park to the Old Town with its ancient churches and cobblestone streets and other attractions, there are plenty of amazing photo opportunities around every corner that will make your Instagram come to life.
Having visited Ohrid in September of 2022, let me show you some of our favorite places where we think taking pictures can be especially rewarding, These are the best Instagram spots in Ohrid, Macedonia!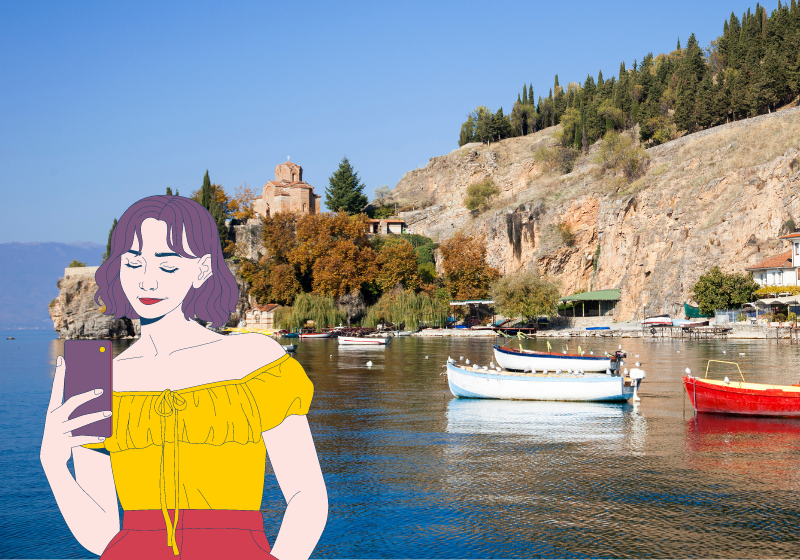 Old Town Ohrid
View this post on Instagram
Old Town Ohrid is a must-see destination for any traveler to Macedonia.
This historic area is home to some of the country's most iconic landmarks, offering stunning views and great photo opportunities.
The Ancient Theatre of Ohrid
View this post on Instagram
The Ancient Theatre of Ohrid dates back to the 5th century BC and is one of the oldest theatres in Europe.
It was built on a hill overlooking Lake Ohrid, providing visitors with an incredible view of both the lake and city below.
The theatre has been restored over time and now serves as a popular venue for concerts and performances throughout the year.
Samoil's Fortress
View this post on Instagram
Samoil's Fortress stands atop another hill overlooking Old Town Ohrid, providing visitors with breathtaking views from its walls.
Built in 1015 AD by King Samuil, this fortress was once used as a defensive stronghold against invading forces but today it serves as an open-air museum showcasing artifacts from ancient times.
Visitors can explore its many rooms, towers, courtyards, and gardens while learning about Macedonian history along the way.
The Church of St John at Kaneo
View this post on Instagram
Thus gorgeous Orthodox church sits perched on top of cliffs above Lake Ohrid's shoreline offering panoramic views across both land and water alike.
Constructed in 1319 AD by Tsar Dusan I himself, this church features intricate frescoes depicting scenes from biblical stories such as Noah's Ark or Jesus Christ's baptism in Jordan River among others which are still visible today despite their age, making them quite remarkable sights to behold.
Lake Ohrid
View this post on Instagram
Lake Ohrid is one of the most beautiful natural attractions in Macedonia. Located near the border with Albania, it is a stunning lake surrounded by mountains and filled with crystal clear waters.
Visitors can explore the Bay of Bones Museum, Plaoshnik Monastery Complex, and Saint Naum Monastery and Springs for some amazing Instagram shots.
Bay of Bones Museum
View this post on Instagram
The Bay of Bones Museum offers visitors an insight into ancient life on Lake Ohrid.
It is an open-air museum located on stilts over the lake which showcases reconstructed houses from 3200 BC as well as artifacts from that era such as pottery and tools used by early settlers.
This unique experience gives visitors a glimpse into what life was like thousands of years ago in this area.
Plaoshnik Monastery Complex
View this post on Instagram
The Plaoshnik Monastery Complex dates back to 893 AD when it was founded by St Clement who brought Christianity to Macedonia at that time.
The complex consists of two churches – St Panteleimon Church built in 1363 and St Nikola Church built in 1445 – along with other buildings including a bell tower, refectory, library, monastery cells and more.
Visitors can explore these historic sites while taking in views across Lake Ohrid towards Albania's Galicica Mountain range beyond.
Founded by Saint Naum himself around 905 AD, this monastery complex sits atop a hill overlooking Lake Ohrid providing spectacular views out over the water below.
Here you will find several churches including St John's Church which dates back to 1020 AD along with various other buildings such as chapels and monastic cells plus springs fed directly from underground streams beneath the complex itself – believed to have healing properties.
Galicica National Park
View this post on Instagram
Galicica National Park is a must-see destination for any traveler visiting Macedonia. Located between Lake Ohrid and Lake Prespa, the park offers breathtaking views of both lakes from its highest peak, Magaro Peak.
Standing at 2255 meters above sea level, this peak provides stunning panoramic views that will make your followers jealous.
Magaro Peak
View this post on Instagram
Magaro Peak is the highest point in Galicica National Park and it's easy to see why it's so popular with visitors. The summit can be reached by foot or car and there are several trails that lead up to the top of the mountain.
Once you reach the top, you'll be rewarded with spectacular views of both Lakes Ohrid and Prespa as well as some incredible photo opportunities.
Vevcani Springs
View this post on Instagram
Vevcani Springs are one of Galicica National Park's most unique attractions.
These natural springs have been around since ancient times and they still provide clean drinking water today.
The area surrounding them has become a popular spot for swimming and picnicking during warmer months.
It's also a great place to relax after an exhausting hike up Magaro Peak.
---
Visiting Ohrid? Here's What You Need to Know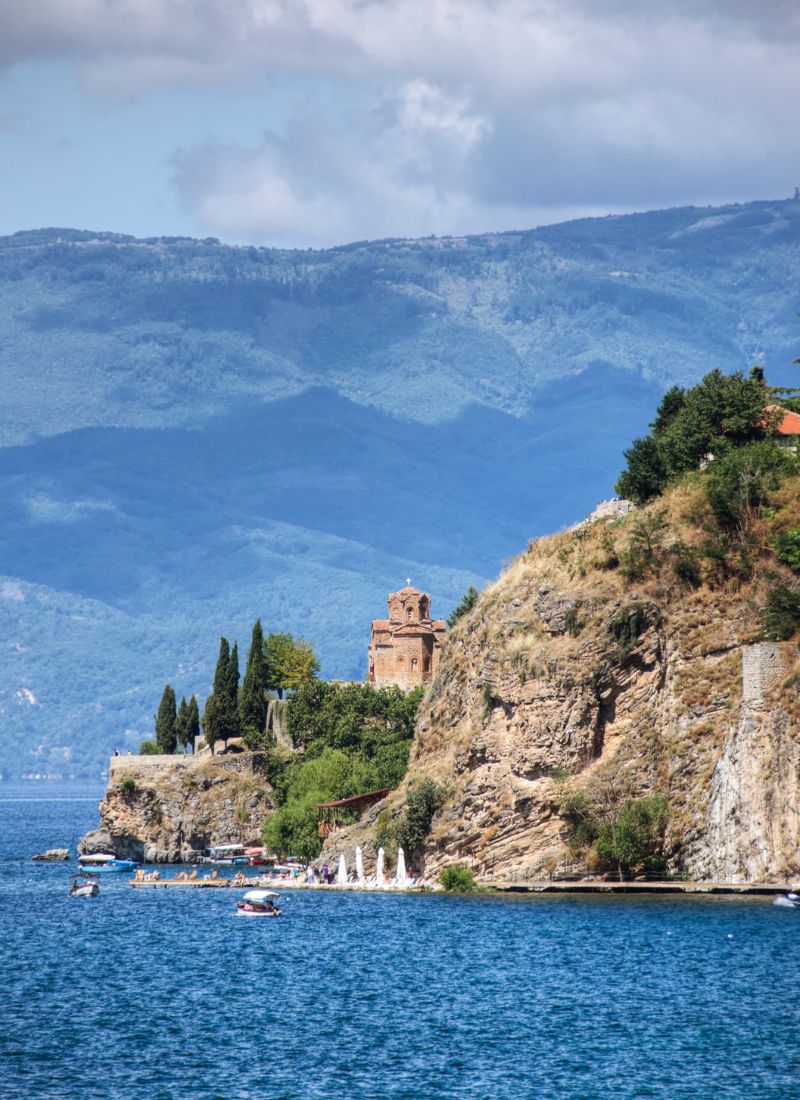 What are some popular Instagram hashtags you can use for your pictures?
Some popular hashtags for posting pictures of Ohrid on Instagram include:
#Ohrid #OhridLake #Macedonia #VisitOhrid #OhridCity #OhridOldTown #OhridSummer #OhridBeach #OhridView #OhridArchitecture #OhridPhotography #OhridSights #OhridAdventures #OhridNature #OhridTravel #OhridTourism #OhridMemories #OhridCulture #OhridLife #OhridInstagram #OhridExplorer #OhridDreams #OhridSummertime #OhridDreamdestination #OhridViewpoint #OhridLovers #OhridHoliday #OhridParadise #OhridBeauty
Is Ohrid worth visiting?
Yes, Ohrid is definitely worth visiting.
Located on the shores of Lake Ohrid, it's a beautiful city with plenty to offer. The Old Town area is full of historical sites and monuments that are sure to captivate visitors.
Additionally, there are numerous outdoor activities available such as hiking and swimming in the lake.
With its unique culture and stunning scenery, Ohrid Macedonia is an unforgettable destination for any traveler looking for a memorable experience.
What is Ohrid known for?
Ohrid is a small city located in the southwestern part of Macedonia, and it is known for its stunning natural beauty. It sits on the edge of Lake Ohrid, one of Europe's deepest and oldest lakes.
The city has been declared a UNESCO World Heritage Site due to its rich cultural heritage which includes ancient churches, monasteries, and archaeological sites from different eras.
Additionally, Ohrid is home to some of the best beaches in Europe with crystal-clear waters perfect for swimming or sunbathing.
There are also plenty of activities such as hiking trails through picturesque landscapes or boat trips across the lake to explore hidden coves and islands.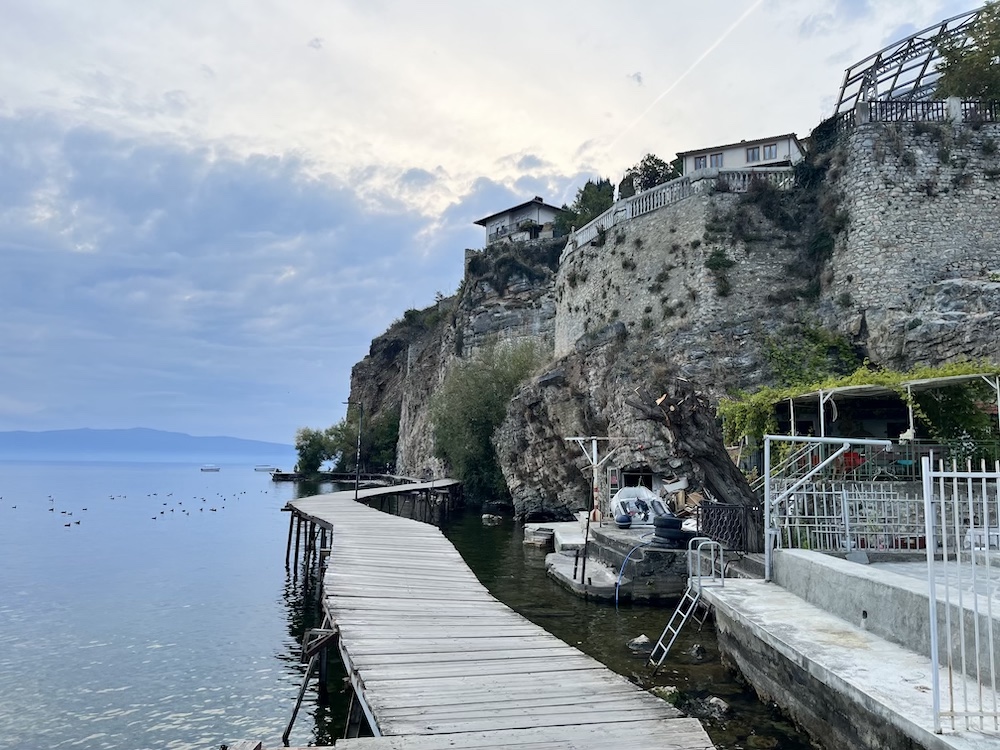 How long should you stay in Ohrid?
The beautiful city of Ohrid is a great destination for any traveler.
It can be enjoyed in as little as one day, but to truly experience all that it has to offer, two or three days is ideal. On the first day, explore the Old Town and take in its stunning architecture and ancient churches.
The second day should be spent visiting nearby Lake Ohrid, where you can enjoy swimming and boating activities.
Finally, on your third day visit some of the many monasteries around town or hike up Galicica National Park for breathtaking views of both lake and mountains.
No matter how long you stay in Ohrid, it will surely leave an unforgettable impression.
Where can I swim in Ohrid?
Ohrid is a beautiful lake located in Macedonia and offers plenty of swimming opportunities.
The most popular spot for swimming is the beach at St. Naum, which has crystal clear waters and plenty of sunbathing spots.
Other great places to swim include Kaneo Beach, Bay of Bones Museum, and Ljubaništa Beach.
All these locations offer stunning views as well as safe swimming areas with lifeguards on duty during peak season.
For those looking for more adventurous activities, there are several water sports centers around Ohrid offering kayaking, windsurfing, wakeboarding and more.
---
---
Ohrid, Macedonia is a beautiful and unique destination that offers many opportunities for stunning Instagram photos.
From the picturesque Old Town to the breathtaking views of Lake Ohrid and Galicica National Park, there are plenty of amazing spots to capture your memories in this city.
Whether you're looking for historical landmarks or natural wonders, Ohrid has something special for everyone. So don't forget to bring your camera when visiting Ohrid and take advantage of all the best Instagram spots in Ohrid, Macedonia!