You're visiting Macedonia for the first time, but can't decide between Skopje and Ohrid when seeing both isn't possible?
Well, whatever you decide, you're in for a treat either way, but let's break it down.
Skopje, the capital, is where the buzz is – think modern cafes meeting ancient bazaars in a vibrant, bustling city.
Then there's the peaceful Ohrid, with its serene lake, charming cobblestone streets, and a ton of history to explore at every turn.
Stuck on which to pick? Dive in with us as we explore both, helping you decide between the lively vibes of Skopje or the tranquil beauty of Ohrid for your next escape.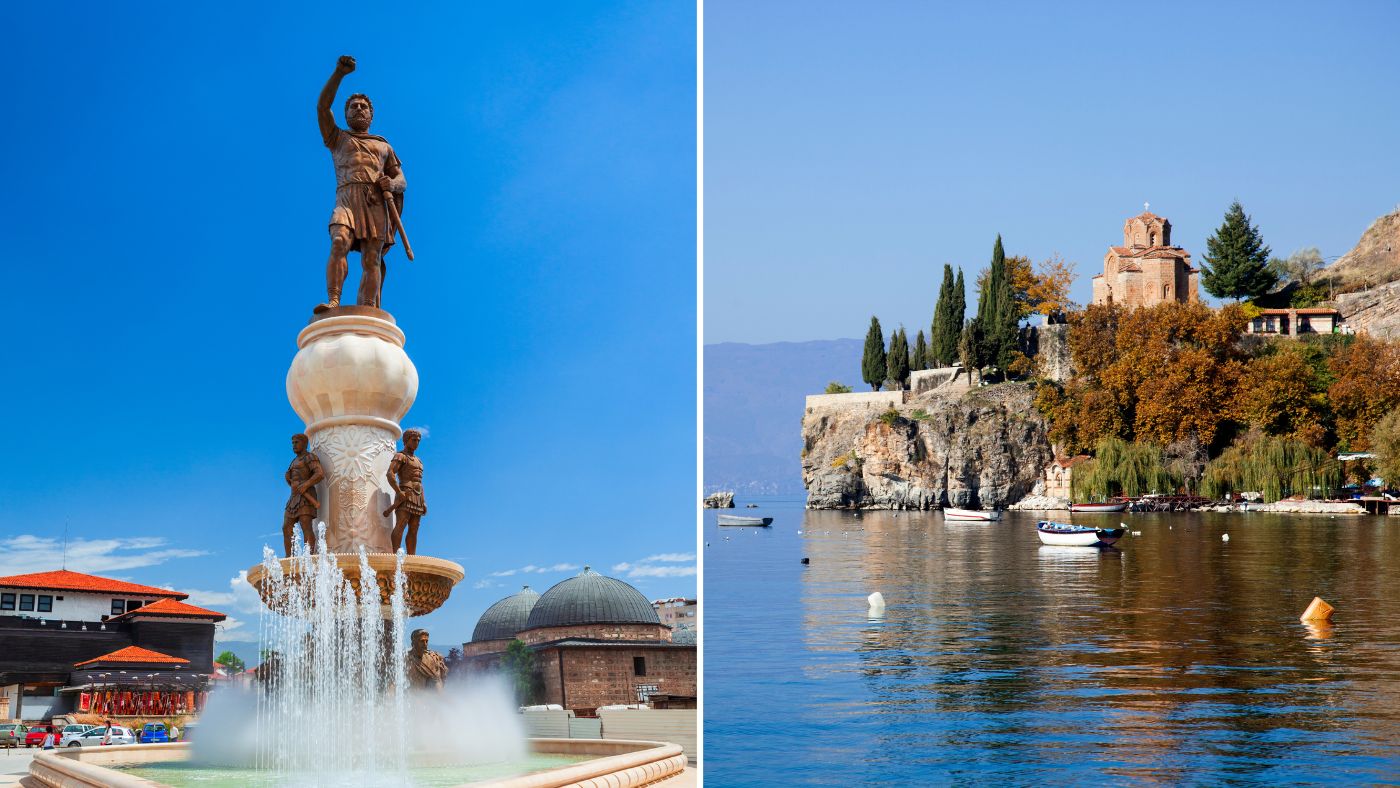 What You Need To Know About Ohrid:
Located in the southwestern part of the country, Ohrid is known for its stunning natural beauty and rich cultural heritage. The city is situated on the shores of Lake Ohrid, which is considered the oldest and one of the deepest lakes in Europe.
The Old Town of Ohrid is a UNESCO World Heritage Site, with numerous churches and monasteries dating back to the 9th century.
One of these is the Church of St. John (seen above), which is considered one of the most important cultural and historical monuments in the Balkans and a must-see when visiting Ohrid.
Built in the 10th century, the church is known for its impressive frescoes and intricate architectural details.
Another popular destination is the Ancient Theatre of Ohrid, which dates back to the 3rd century BC and offers panoramic views of the city and the lake.
In addition to its historical landmarks, Ohrid is also a popular destination for outdoor activities where visitors can enjoy hiking in the nearby mountains and swimming in the historic lake along with exploring the local shops and restaurants.
The city is also very safe and suitable for both families and solo travelers.
What You Need To Know About Skopje: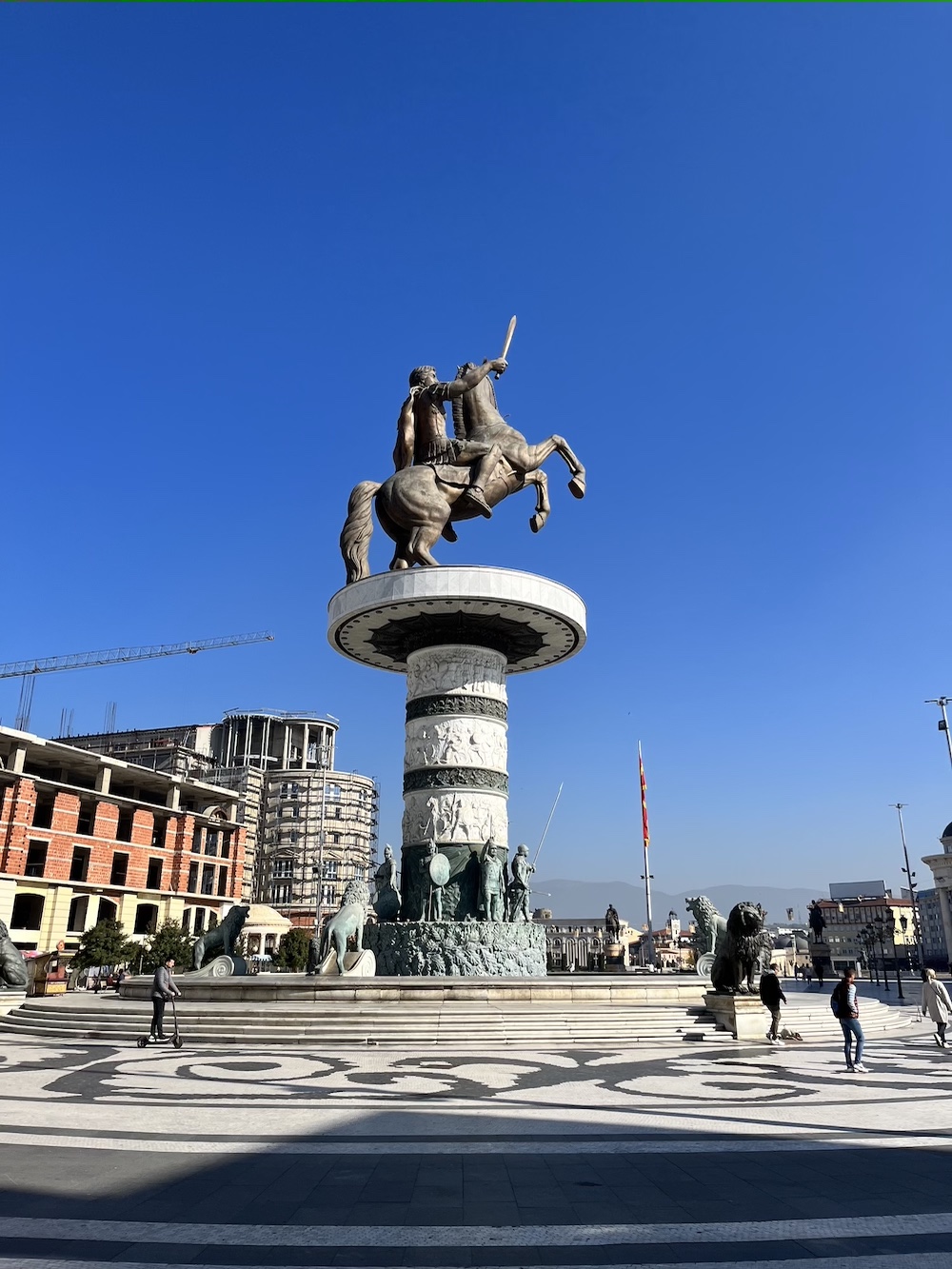 Skopje is a great option if you are looking for a more modern and vibrant city.
The city is home to the Kale Fortress, which dates back to the 6th century, along with a variety of museums and galleries, including the Macedonian Museum, the Skopje City Museum, and the Archaeological Museum of Macedonia, which can be found across the Instagram famous Art Bridge.
Another must-see attraction in Skopje is the Stone Bridge, which is considered the city's most iconic and unforgettable landmark.
Built in the 15th century, the bridge connects the Old Town with the modern part of the city and offers stunning views of the Vardar River and the surrounding mountains.
In addition to its historical and cultural attractions, Skopje is also known for its vibrant nightlife and diverse dining scene. The city has a wide range of restaurants and cafés, offering a variety of local and international cuisine.
The Old Town is a popular destination for evening entertainment, with its cobbled streets and lively bars and clubs. Skopje also has a thriving arts and music scene, with numerous galleries and live music venues.
Finally, Skopje is also a major shopping destination for locals and neighboring countries, with thousands of people visiting the city's massive malls, enjoying shopping and dining in the city center, and taking a stroll along the picturesque riverfront.
Geography and Climate
---
Skopje, nestled in the Vardar River valley, is surrounded by several mountain ranges, such as Skopska Crna Gora to the North and the Jakupica range to the South.
Due to its geographical location, the city has a moderate continental climate with hot, dry summers and cold, snowy winters.
Skopje's landscapes are primarily urban, with a web of streets and buildings punctuated by the calm flow of the Vardar River and surrounded by glorious mountains.
On the other hand, Ohrid's geographical setting is a spectacle of natural beauty.
Positioned on the hilly shores of Lake Ohrid and backed by the towering Mount Galicica, Ohrid enjoys a more temperate climate, thanks to the lake's moderating influence.
Summers in Ohrid are typically warm and full of sunshine, while winters are milder and still super sunny with blue skies.
Ohrid's landscapes are a mix of beautiful beaches, crystal-clear waters, and old-world architecture, creating a picturesque panorama at every turn.
Attractions & Experiences
Both Skopje and Ohrid offer unique experiences that are specific to their locations.
Skopje is more of an urban and lively city that may appeal to art lovers due to its variety of galleries, museums, theaters, and vibrant street art.
Moreover, if you are looking for a dynamic nightlife scene and trendy cafés, restaurants, bars, etc., you will definitely have more fun in Skopje.
Finally, if you are a nature lover but still prefer sticking to urban comforts, Skopje is a better place for you, as the city still offers activities like hiking and biking in the Vodno Mountain or taking leisurely walks in the City Park.
Additionally, the Matka Canyon, a short drive from the city center, is another natural gem where you can enjoy boating, rock climbing, or simply marvel at the stunning landscapes.
In short, when picking Skopje, consider that you don't have to choose between urban living and nature, as the city beautifully combines its vibrant urban life with easy access to tranquil green spaces, offering a perfect blend for those who love both the hustle and bustle of the city and the serenity of nature.
Meanwhile, Ohrid, known for its tranquil lake and surrounding nature, boasts a charming old town with cobblestone streets lined with quaint shops, perfect for a leisurely shopping trip.
On the other hand, the cozy cafés that dot the streets are a fantastic spot for sipping a warm or refreshing beverage while watching the world go by.
However, don't think you are going to get bored in Ohrid, so if you are up for an adventure, you can always take a boat ride across the lake and enjoy the stunning views, visit the historic St. John at Kaneo church perched on a cliff overlooking the lake, or explore the ancient Samoil's Fortress with its panoramic views of the city and lake.
For nature enthusiasts, Galicica National Park is a must-visit. Nestled between Lake Ohrid and Lake Prespa, the park offers hiking trails, endemic flora and fauna, and breathtaking views of both lakes.
Additionally, the Bay of Bones Museum, a prehistoric on-water settlement reconstructed on platforms, is a fantastic activity for history enthusiasts visiting Ohrid.
Finally, a visit to Ohrid wouldn't be complete without a trip to the Monastery of Saint Naum. Named after the medieval writer, scholar, and enlightener Saint Naum, this monastery offers an unparalleled view of the lake and the surrounding mountains.
Accessibility
Getting to both Skopje and Ohrid is pretty straightforward, with various options available.
Skopje, the capital of Macedonia, is well connected by air, with the Skopje International Airport serving regular flights from numerous European cities.
The city is also accessible by train, with direct lines from most towns in the country, as well as Belgrade, Serbia, and Sofia, Bulgaria.
Bus services connect Skopje with other major cities in the region, including Thessaloniki, Belgrade, Prague, and others.
Ohrid, while slightly less accessible than Skopje, is nonetheless easy to reach.
Ohrid's St. Paul The Apostle Airport hosts seasonal flights from several European destinations, including Dortmund, Vienna, Malmö, Basel, and Zurich.
Alternatively, you can fly to Skopje and then take a bus to Ohrid, which is a three to four-hour journey, depending on the number of stops along the way and weather conditions.
Once in Skopje, getting around is quite easy, as the city has an extensive public transport system consisting of buses and taxis.
The city center is also relatively compact and walkable, allowing visitors to easily explore on foot. Biking is another popular option, as the city boasts a comprehensive network of bike lanes.
Ohrid, on the other hand, is a smaller city, making it highly walkable.
The old town, in particular, is best explored on foot due to its narrow, cobblestone streets.
Public buses provide transportation to the surrounding areas, and taxis are available and relatively inexpensive, especially during the off-season.
You can also hire a bike or a car for greater convenience.
Accommodation
In terms of accommodation, both Skopje and Ohrid cater to a variety of budgets and preferences.
Skopje, being the capital city, boasts a larger variety of hotels, ranging from luxury properties that offer unparalleled comfort and service to budget-friendly hostels and Airbnbs, favored by many who prefer spending their money elsewhere instead of expensive accommodation.
However, most of the rental properties and hotels are located in or around the city center, offering easy access to major attractions, so don't think that you will be sacrificing convenience or proximity to key sites by opting for budget-friendly accommodations.
Now, when it comes to prices, they can vary greatly depending on the type of accommodation you are looking to rent, but you can generally expect to pay more for hotels or larger apartments located in the city center.
On the other hand, larger apartments that are slightly further from the square can be found for cheaper.
One of our favorite Airbnbs is a three-bedroom, double-bathroom apartment located at a flat 15-minute walk to the Alexander The Great Fountain (around a 5-minute walk from Vero Shopping Mall) and costs around $35 per night; however, we've also stayed closer to the city square in a one-bedroom apartment that cost around the same amount.
But regardless of where you stay, be sure to budget for at least $50 per day for accommodation or more if you plan on staying in a higher-end property, such as a hotel.
Ohrid, on the other hand, offers a more quaint accommodation experience, especially during the off-season.
While it does have a few luxury hotels and villas, the majority of its lodging options are family-run guesthouses, Airbnbs, and rental apartments.
These accommodations often charm visitors with their authentic Macedonian architecture and hospitality.
Staying in the old town offers the best access to Ohrid's attractions and provides a unique experience of staying in a historical area.
Again, prices in Ohrid are generally lower than in Skopje, making it more budget-friendly, especially during the off-season.
However, during the peak season (July and August), prices can rise due to the influx of tourists, so expect to pay more if you visit the town during this time.
With that said, both cities offer decent quality accommodation, with many places receiving high ratings for comfort, cleanliness, and friendly service.
Culinary Scene
Macedonia's traditional cuisine is a gastronomic delight, offering a melange of flavors influenced by Balkan, Mediterranean, and Middle Eastern cuisines.
Some must-try dishes include the national Tavče Gravče, a traditional baked beans dish, and Pljeskavica, a succulent meat patty sandwich.
Complement these with Shopska salad and rakija – a potent local brandy, or a glass of Vranec, the robust red wine indigenous to the region.
In Skopje, the culinary scene is as diverse as its cultural heritage, and you can dine in upscale restaurants serving international cuisine or local eateries offering authentic Macedonian, Albanian, or Turkish dishes.
Don't forget to check out the Old Bazaar, which is a foodie's paradise where you can sample traditional food at affordable prices.
On the other hand, if you are strolling along the riverside and suddenly find yourself craving a delicious and reasonably priced meal, check out the highly-rated Soul Kitchen, known for its fusion of traditional Macedonian cuisine with a modern twist.
Skopje also boasts a vibrant café culture, with numerous cafes dotting the city, perfect for a relaxing coffee break.
On the flip side, Ohrid's dining scene has a more laid-back, rustic charm.
Restaurants here often serve locally sourced fresh fish from Lake Ohrid, and the area is renowned for its trout, with fish soup served along with a slice of lemon, fresh bread, and 'Makalo,' a thick paste made of garlic and oil, to, as the locals say, 'cure even the worst hangover.'
The lake-side restaurants offer not only delicious food but also stunning views.
One such place is Dalga, a well-known restaurant with a lovely terrace overlooking the lake, famous for its fresh fish dishes.
Additionally, when dining on the restaurant's back terrace, you will likely be visited by a pair of swans that will undoubtedly add to the charm of your dining experience, especially if you decide to share some of your food with them.
The swans, known to locals as "the guardians of the lake," are a common sight and have become a symbol for the area.
While dining in both cities offers its unique charm, it's generally more affordable to eat out in Ohrid during the off-season or at some of Skopje's more affordable eateries, such as fast-food joints throughout the city center.
But whether you opt for a fancy dinner at a top Skopje restaurant or a laid-back meal in Ohrid, you're sure to relish the rich flavors of Macedonian cuisine at a reasonable price compared to most European cities.
Budget Considerations
If you are a budget-conscious traveler, you will likely appreciate Skopje more, as the capital is larger and offers more free things to do than Ohrid, where most tourist attractions carry a small fee.
A typical day in Skopje, including accommodation, meals, transport, and attraction fees, could cost around $50-70, depending on your budget preferences.
For accommodation, budget travelers can find hostels in Skopje that range from $15 to $30 per night. Mid-range hotels and Airbnbs can be found at about $40 to $60 per night, while luxury hotels can cost over $100 a night.
When it comes to meals, you can enjoy a meal at an inexpensive restaurant or a fast-food joint for around $5-$10, while a meal at a mid-range restaurant may cost between $15 and $25.
On the other hand, if you have a kitchen in your accommodation, you can easily shop for groceries at some of the city's cheaper supermarkets, such as  KAM or Reptil, or buy fresh produce from the city's farmer's market, Bunjakovec, at a considerably lower price.
Public transportation is quite affordable in Skopje. A one-way ticket for the bus costs approximately $0.60, and a monthly pass is around $25.
Most of the city's attractions are free to visit, including the Old Bazaar, the Stone Bridge, and the Macedonia Square. However, some museums and sites may charge a small entrance fee, typically around $2-5.
Therefore, a budget-conscious traveler spending around $20-30 on accommodation, $15-20 on meals, a few dollars on transport, and setting aside $10 for attractions could comfortably explore Skopje within a $50-$70 daily budget.
On the other hand, a day in Ohrid will likely cost more during peak tourist season and slightly less during the off-season months.
While the price of accommodation can vary, during the off-season months, you can find fantastic Airbnb apartments with breathtaking views over the Ohrid Lake for as little as $30 per night, but that same apartment might cost over $100 during peak tourist season.
When it comes to meals, again, Ohrid is slightly cheaper than Skopje during the off-season months, with massive fast-food sandwiches costing less than $5 and several-course meals at a decent restaurant coming at around $15-20.
Additionally, if you prefer cooking your food, Ohrid also has a KAM Supermarket, which is the cheapest one to shop in the country, but you can also support local convenience stores where goods are usually even cheaper.
When it comes to transportation, Ohrid is much smaller compared to Skopje, and as a tourist, you will probably spend the most time in the old town, so you likely won't have the need for public transportation and buses in general unless you want to schedule a tour to a particular destination, such as the Bay of Bones mentioned earlier in the article.
Finally, Ohrid also offers free tourist attractions that you can visit or admire from the outside, such as St. Sophia, the Church of St. John at Kaneo, and the Ancient Theatre; however, beware of tourist scams in these areas.
Tourist scams are sadly a common thing in Ohrid; therefore, beware of anyone who is trying to charge you for services that are typically free or who is offering deals but don't seem to work for any sort of company or organization.
Some common scams include overcharging taxis, individuals offering to help with ATM transactions and establishments inflating prices for tourists.
Another scam to look out for involves people posing as tourist guides or friendly locals who will offer insider information or not-so-well-known details about a tourist attraction and ask for money afterward.
Safety and Convenience
Both Skopje and Ohrid are generally safe for tourists.
Crime rates in both cities are relatively low, and violent crime against tourists is extremely rare.
However, like any travel destination, taking standard safety precautions is imperative, as petty crimes of opportunity, such as pickpocketing, are possible.
Therefore, keep your belongings secure and be aware of your surroundings, especially in crowded areas where pickpockets may be operating.
In Skopje, it is advisable to avoid poorly lit areas late at night and remain cautious when using ATMs.
Additionally, you will probably notice beggars in Skopje, and while it's up to you whether you want to help someone out, try not to engage in long conversations, as this can lead to uncomfortable situations, potential scams, pickpocketing, and even aggression.
While the city, and particularly the center, is bustling at most hours of the day and has a good police presence, which contributes to overall safety, it's always best to stay cautious to avoid uncomfortable situations.
On the other hand, Ohrid is a smaller, quieter city and is considered very safe. The locals are also super friendly and accommodating to tourists.
However, the city can become quite crowded during the summer, and it's advisable to be extra vigilant of your belongings, especially around popular tourist spots.
In conclusion, both Skopje and Ohrid offer a safe and welcoming environment for tourists.
Just remember to exercise common sense and take standard travel precautions to ensure a safe and enjoyable vacation.
Picturesque Spots and Scenery
Skopje and Ohrid offer their unique blend of beautiful landscapes and photogenic spots, which is why we've written separate articles on the best Instagrammable spots in the two cities you must check out!
But in short, Skopje is the bustling capital replete with grand monuments, scenic parks, and an old-worldly bazaar that makes for great photography.
On the other hand, Ohrid, known as the "Pearl of the Balkan," is brimming with historical relics and stunning views of Lake Ohrid.
Therefore, whether you're a history enthusiast, a nature lover, or a city dweller, both cities are full of Instagrammable spots waiting to be discovered.
But if the choice has to be made, the tranquil beauty of Ohrid would be more appealing to those seeking picturesque landscapes and serene environments, while the dynamic cityscape of Skopje may attract those looking for urban charm and architectural marvels.
What We Personally Prefer… (& What We Recommend)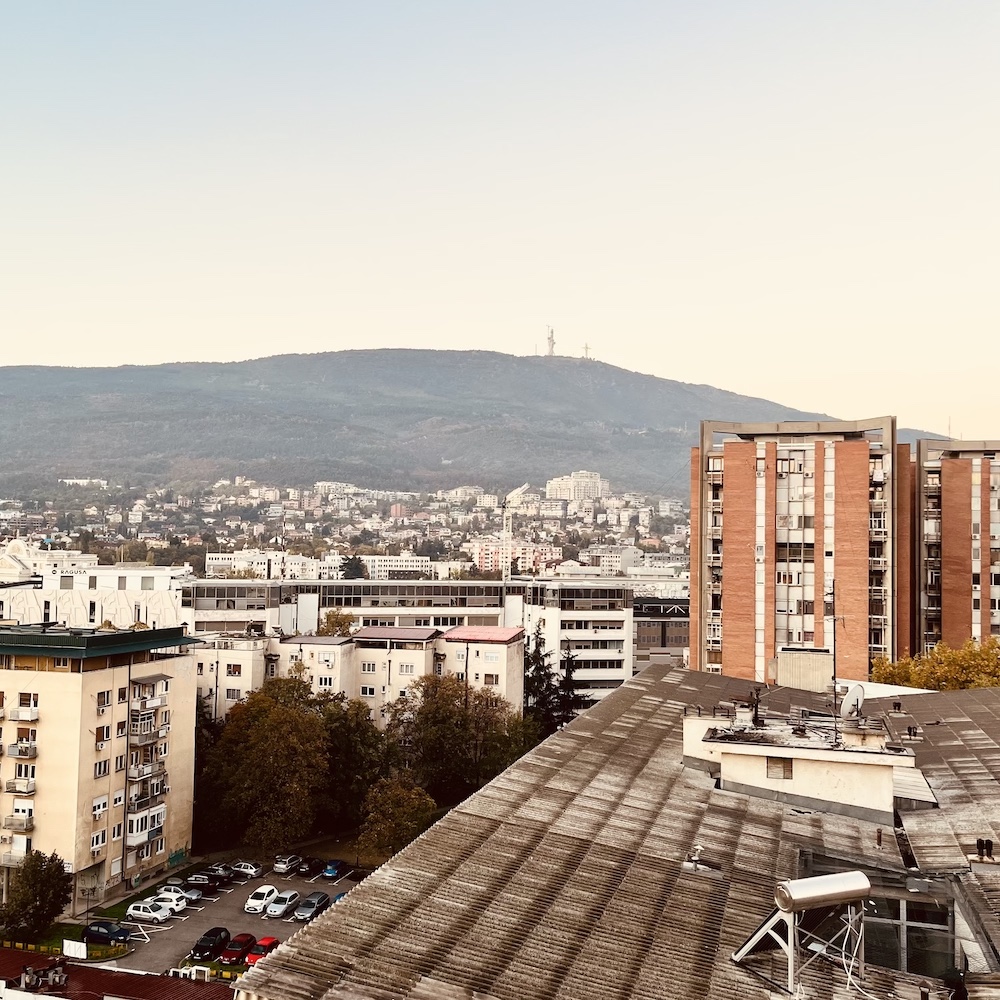 Having visited both Skopje and Ohrid, our personal choice would be to visit Skopje.
This is because Skopje suits us perfectly.
We also LOVED Ohrid, and we would visit again for sure, but overall, if we had to choose, we choose Skopje.
NB: From what we've gathered, you do not want to visit Ohrid in the summertime as it can get a bit too crowded. We visited in early October and got lucky with the weather, the end-of-season peaceful vibe of the city, and considerably cheaper accommodation.
On the other hand, Skopje is heavily polluted in the Wintertime, so maybe if you're visiting in the colder months, it's best to visit Ohrid.
Overall, both Ohrid and Skopje have their own unique charm and offer a variety of activities and experiences for tourists.
If you are looking for a peaceful and scenic destination with a rich history and culture, Ohrid may be the best choice.
If you prefer a more modern and vibrant city with a lively atmosphere, Skopje is a great option.
Ultimately, the decision depends on your personal interests and preferences.
---
This guide was first published on December 8, 2022 and was last updated on November 14, 2023. For more information, please contact us at contact@skopjeguide.com.