Traveling from Skopje to the picturesque city of Ohrid is a popular choice for many visitors.
Fortunately, there are various options to choose from when planning your journey.
In this article, we'll explore the best ways to get from Skopje to Ohrid for a hassle-free and unforgettable experience.
Key Takeaways
• There are several options available for traveling between Skopje and Ohrid, each offering different advantages.
• Familiarizing yourself with the geography of the area and planning accordingly will make for a smoother journey.
• Taking insider tips and safety precautions into account can greatly enhance your overall travel experience.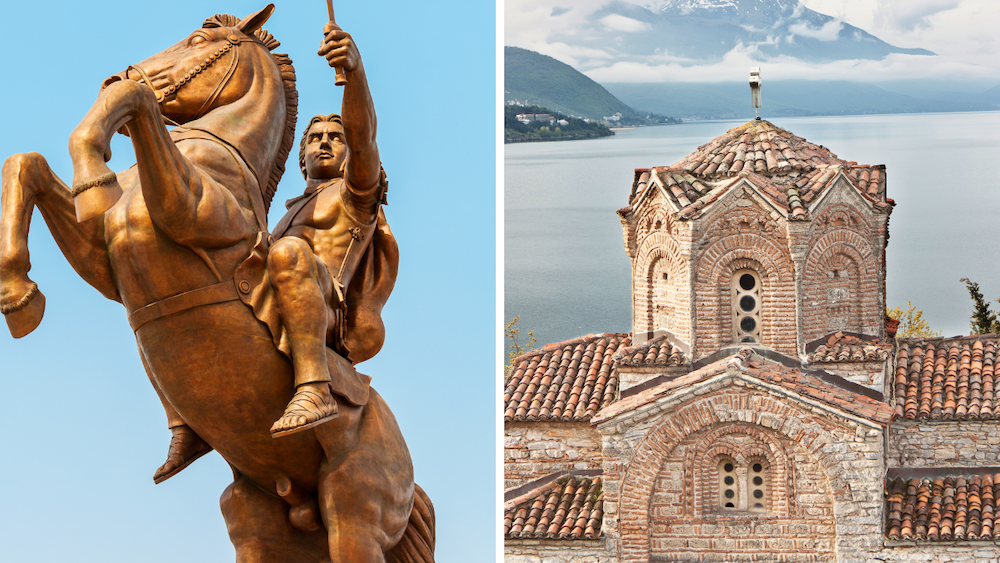 Understanding the Geography
Location of Skopje
Skopje, the capital city of Macedonia, is located in the north-central part of the country.
Nestled in the Vardar River valley, it is surrounded by mountains, giving it a picturesque backdrop.
Skopje serves as the political, economic, and cultural hub of North Macedonia, making it a bustling city worth exploring.
Location of Ohrid
Ohrid, on the other hand, is situated in the southwestern part of Macedonia, close to the Albanian border.
It lies on the shores of the beautiful Lake Ohrid, a UNESCO World Heritage site known for its crystal-clear waters and rich biodiversity.
The town of Ohrid is renowned for its historic landmarks and unique architecture, making it an attractive destination for tourists.
The distance between Skopje and Ohrid is approximately 180 kilometers, and you can reach Ohrid by traveling on the A2 route, followed by the E65 highway.
While this is the most commonly used route, there are other travel options available, such as buses, taxis, or a combination thereof.
As you plan your journey, consider these geographical aspects to ensure a smooth and enjoyable trip.
READ:
Choosing Your Mode of Transport
Getting from Skopje to Ohrid is quite convenient, as there are several options for making the journey.
In this section, we will explore the most popular modes of transport available – by bus, by car, and by taxi.
By Bus
Taking the bus can be the most cost-effective option.
The journey from Skopje to Ohrid by bus takes around 3 hours, and the ticket price usually ranges between $7 to $35.
Buses are quite frequent, and you'll be able to enjoy the stunning landscapes along the way.
When you're planning your trip, keep in mind there are no trains traveling to Ohrid, so taking a bus will be your best choice for public transportation.
By Car
If you prefer having more freedom and flexibility on your journey, you may want to consider renting a car.
Driving from Skopje to Ohrid allows you to stop at points of interest, take detours, or simply enjoy the scenic route at your own pace.
The drive typically takes about 2 hours and 35 minutes, and you can rent a car easily at the Skopje airport or in the city center.
Remember, though, that this option may be slightly more expensive due to rental and fuel costs.
By Taxi
For those who want the convenience of a door-to-door service without having to drive themselves, taking a taxi from Skopje to Ohrid can be a suitable option.
The taxi ride usually takes about 2 hours and 35 minutes, and the cost varies between $100 to $130.
While it provides more privacy and comfort than a bus ride, this option is decidedly the most expensive of the three.
Nevertheless, it's a good choice if you value comfort and are willing to pay a bit more for it.
Insider Tips for the Journey
Planning your trip from Skopje to Ohrid can be as enjoyable as the journey itself!
Here are some insider tips to help you get the most out of your experience.
First, it's essential to know that there's a regular bus line from Skopje to Ohrid with hourly intervals.
Buses start at 5:30 am, and the last one departs at 7:30 pm.
You can buy a one-way ticket for ~9 euros or a return ticket for ~14 euros. This makes it an affordable option for budget travelers!
During the journey, the bus ride lasts around 3 hours, giving you ample time to take a nap, read a book, or simply gaze at the picturesque landscapes of Macedonia.
Remember to keep some snacks and water handy to stay refreshed on your journey.
Once you arrive, you'll find that the city of Ohrid is as welcoming as it is charming.
Don't forget to disembark where most passengers do, rather than going all the way to the bus station.
This way, you'll arrive in the city center, making it easier to access local sights and accommodations.
Safety Precautions
When traveling from Skopje to Ohrid, it's essential to take a few safety precautions to ensure your trip is smooth and hassle-free.
Since you're traveling within Macedonia, it's vital to exercise normal precautions as you would when visiting any other city.
To start, always be aware of your surroundings and keep your belongings secure.
This includes having a secure bag for your personal items and valuable possessions.
It's also a good idea to carry a photocopy of your passport and other essential documents, just in case.
If you choose to travel by bus, ensure you select a reputable company for your journey.
Buses listed on Rome2rio and Galeb are reliable choices with regular departures, making them a safer option than some less-known operators.
If you opt to travel by car, always lock your vehicle when leaving it unattended.
Don't leave any valuables visible to prevent theft.
Additionally, make sure to follow the local traffic rules and pay attention to road signs, as driving conditions may differ from what you're used to.
During your trip, keep emergency contacts handy, including local police and medical services.
It's also wise to let someone know your travel itinerary, so they're aware of your whereabouts.
By taking these friendly safety precautions, you can enjoy your journey from Skopje to Ohrid with peace of mind. Happy travels!
Frequently Asked Questions
What is the best mode of transportation from Skopje to Ohrid?
The most convenient mode of transportation from Skopje to Ohrid is by bus. Buses are frequent, affordable, and comfortable. You can book tickets online or at the bus station in Skopje.
How long does it take to travel between Skopje and Ohrid?
The travel time between Skopje and Ohrid varies depending on the bus company and route. On average, the bus journey takes about 3 to 4 hours.
What is the distance between Skopje and Ohrid?
The distance between Skopje and Ohrid is about 180 kilometers by road, following the most commonly used route via A2 and E65.
Is there a direct bus from Skopje to Ohrid?
Yes, there are direct buses available between Skopje and Ohrid. They provide a convenient and relatively quick journey, making it easy for travelers to get between the two cities.
Which bus companies operate the Skopje-Ohrid route?
Several bus companies operate the Skopje-Ohrid route. You can check online for schedules, prices, and booking options. Alternatively, visit the Skopje bus station to arrange your travel on the day of departure.
Are there any flights between Skopje and Ohrid?
Currently, there are no direct flights between Skopje and Ohrid. The best option for traveling between the two cities remains the bus.
READ NEXT:
The Best Food to Try in Ohrid, Macedonia: A Delicious Culinary Adventure
The 10 Most Instagrammable Spots in Ohrid (With Pictures)
Skopje vs Ohrid: Which One to Visit if You Can Only Visit One?
Should You Visit Ohrid If You're Traveling To Skopje?