If you're visiting Skopje soon, you may know that the city is situated on the banks of the Vardar River. And if you're looking for things to do in Skopje, you may wonder if swimming in the river is safe.
The short answer is no, you cannot swim in the River Vardar in Skopje. It's highly polluted and not at all safe for swimming.
So, if you're looking to cool off with a swim while in Skopje, you'll need to find another spot, such as Lake Matka in the Matka Canyon, which is much cleaner.
However, there are plenty of other activities to do near the river!
In this blog post, we'll give you an overview of the River Vardar, what activities you can do near it, and why swimming in it is not allowed.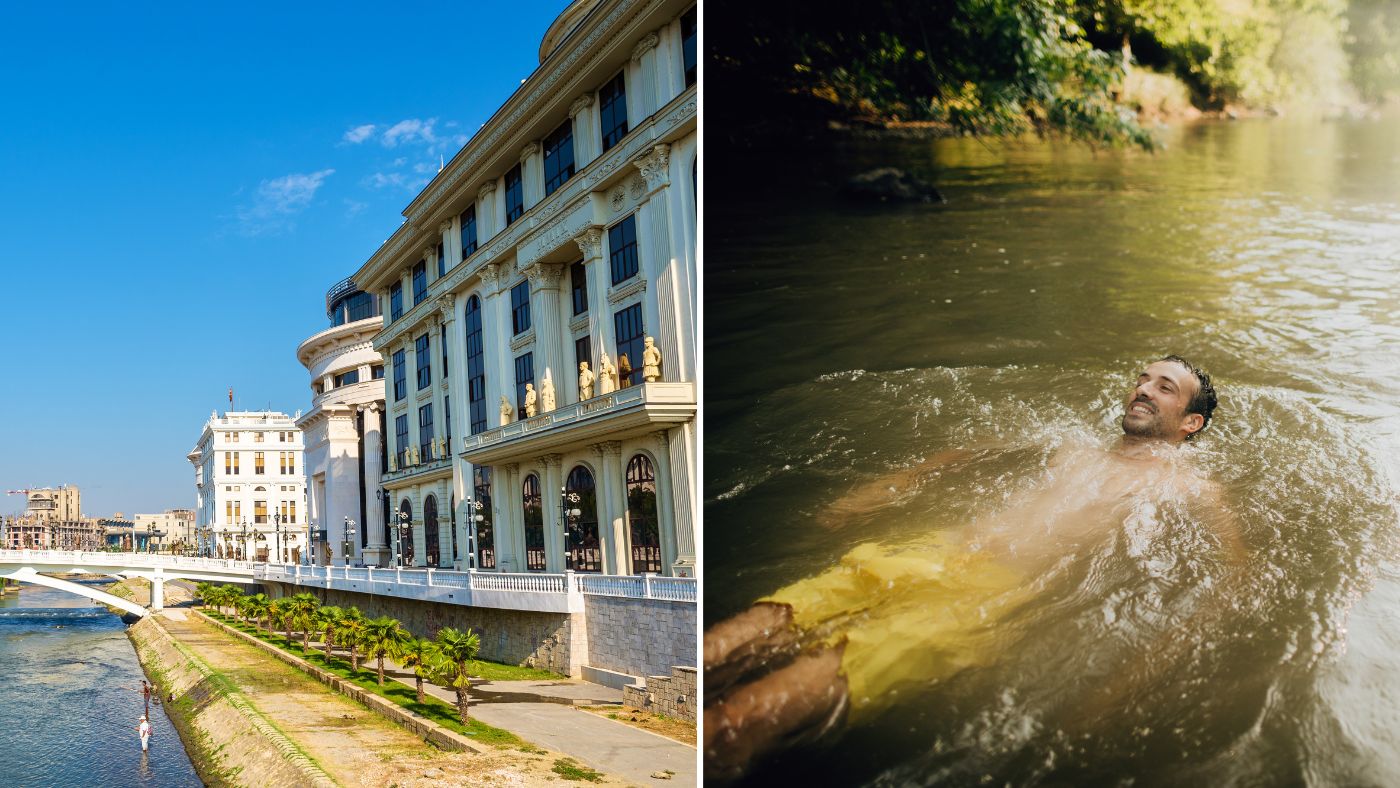 Should You Swim in Vardar?
The River Vardar starts from the town of Vrutok, a few kilometers southwest of Gostivar in Macedonia, and flows its way down and through Skopje before emptying into the Aegean Sea at Thessaloniki, Greece.
According to Wikipedia, it's approximately 388 kilometers long, making it the longest river in Macedonia.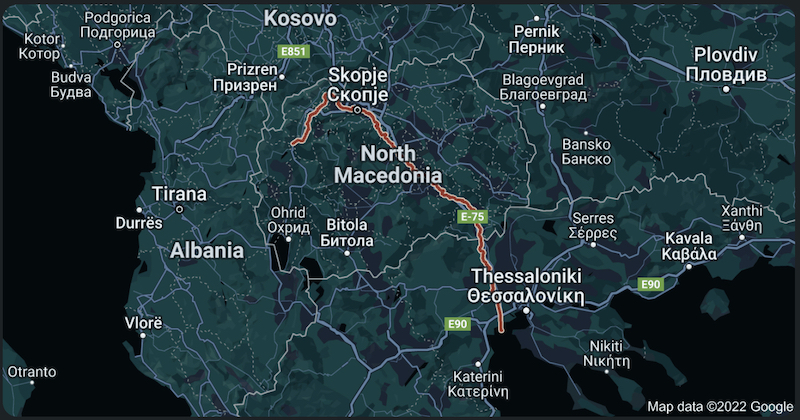 Unfortunately, swimming in the River Vardar is not allowed because it is seriously polluted.
Water pollution is a big problem in Skopje, and the city has been working on cleaning up the Vardar river for many years, to no avail.
Until the water quality improves, swimming in the river is not safe.
The Macedonian Ministry of Environment regularly tests the water quality and publishes the results online, and the most recent results show that the water quality is poor in most sections of the river, especially in Skopje.
There are also a lot of sewage discharge pipes that empty into the Vardar River, which means that the water is likely contaminated with human waste.
Swimming in contaminated water can lead to some serious health problems, including gastroenteritis, which can cause you to develop symptoms such as diarrhea, stomach aches, and vomiting, along with skin and eye infections, congestion, and other health problems.
Additionally, many items in the water can hurt you, such as sharp objects, glass, metal cans, etc.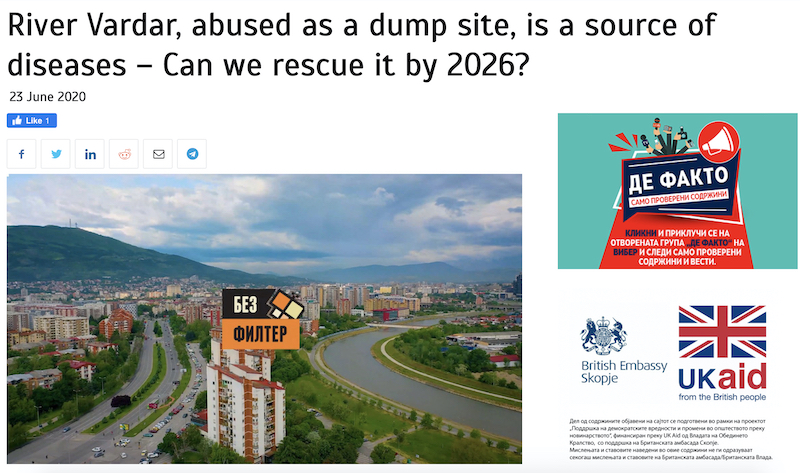 Can You Fish in the River Vardar?
Legally, fishing is allowed in the River Vardar, but again, due to its high level of contamination, I would not recommend it, especially if you're fishing from the Skopje river banks.
Maybe elsewhere by the source or along its way to Greece, you could find better spots for a little bit of fishing in the longest river in Macedonia and actually enjoying a nice meal out of the fish you catch, but the part that goes through the capital city is definitely not suitable.
With that said, the River Vardar is home to various fish species, including trout, which are popular among anglers.
Apart from the River Vardar, Macedonia has several other rivers and man-made lakes that provide excellent fishing opportunities.
These include the Treska, Radika, Bregalnica, Kadina, Babuna, Sateska, Brajcinska, Pcinja, and Crna rivers, as well as the natural Ohrid, Dojran, and Prespa lakes along with artificial Mavrovo, Debar, Tasmaruniste, Tikves, Kalimanci, Berovo, and Veles lakes.
So, while the River Vardar may not be the best choice for fishing, especially within Skopje, there are plenty of other options in Macedonia that you can explore.
The Best Places to Swim in Macedonia
Macedonia is home to a variety of beautiful bodies of water that are ideal for swimming.
With three natural lakes, plenty of artificial lakes, and beautiful clear rivers, the country offers plenty of options for those looking to enjoy a refreshing dip during the hot summer months.
Here are the best places to swim in Macedonia:
Lake Ohrid:
Ohrid is one of the most visited places in Macedonia.
It's known for its crystal clear waters and dramatic drop-off at its tectonic shelf, making it an excellent spot for swimming and scuba diving.
Popular beaches around Lake Ohrid include Gradishte Beach and the waterfront in town.
Lake Prespa:
Located on the tripoint of Macedonia, Albania, and Greece and a popular holiday destination among locals, Lake Prespa's clear waters make for a refreshing swim during the hot summer months.
Lake Dojran:
Located in the Dojran ravine in the southeasternmost part of Macedonia and popular for being the warmest lake in the country, Lake Dojran is another excellent choice for swimming among locals and visitors alike.
Nestled in the Matka Canyon just outside of Skopje, Lake Matka is somewhat of a popular swimming destination for locals; however, it's important to note that swimming in the lake is generally not recommended.
While the lake's crystal clear waters may look inviting, the lake is actually a reservoir created by a dam, and the waters can be deep and cold.
There are also strong undercurrents, which can be dangerous even for experienced swimmers, and since there are no lifeguards on duty at Lake Matka, swimming is entirely at your own risk.
Some visitors do swim in the lake, but it is generally more popular for boating and kayaking.
River Bregalnica:
The second-largest river in Macedonia, River Bregalnica originates from the Osogovo Mountains and flows through eastern Macedonia, passing through cities like Kochani and Stip.
It's a significant part of the Black Sea drainage basin and a popular swimming attraction for locals who live in the surrounding villages, where the water is typically clearer.
River Pčinja:
Flowing through southern Serbia and northern Macedonia, the River Pčinja is a tributary of the Vardar River, used by locals who enjoy swimming in it during the hot summer months.
River Black Drin:
Also known as Crn Drim, the River Black Drin starts at Lake Ohrid and flows through western Macedonia and northern Albania. The river is known for its clean water and is a popular place for swimming in areas where the currents aren't strong.
While locals enjoy a refreshing swim in many of the rivers in Macedonia, this recreational activity doesn't come without danger.
Remember, rivers can have strong currents, sudden drop-offs, and underwater hazards. Therefore, always be cautious and prioritize safety when considering swimming in these bodies of water.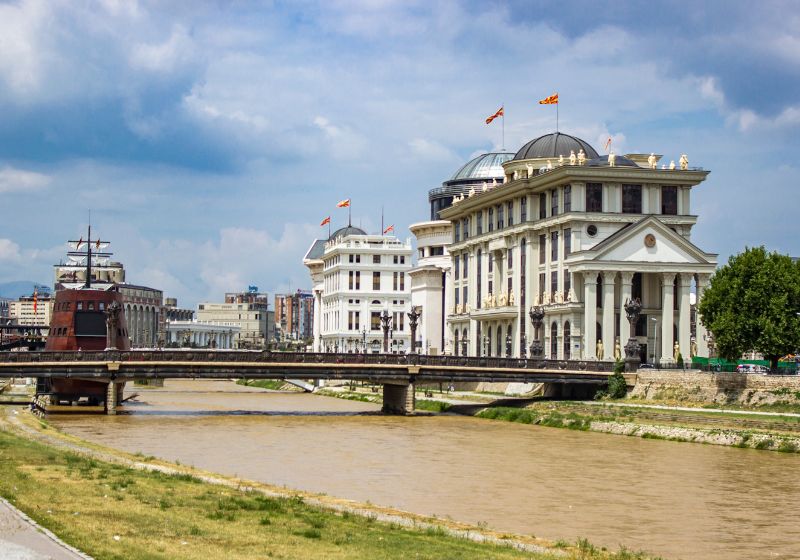 So, to answer your question and make it as clear as possible…
The Vardar River is not swimmable, and if you're visiting, I would highly recommend you stay out of the water and on dry land (or check out some of our above-mentioned places where you can swim). 
With that said, there are still plenty of ways to enjoy Vardar and the city of Skopje.
Whether you're looking to eat, relax with a coffee, or get active with a walk or bike ride, you will find plenty of places to unwind along the Vardar River, which is there for your enjoyment, just not swimming.
---
This guide was first published on September 22, 2022 and was last updated on November 12, 2023. For more information, please contact us at contact@skopjeguide.com.