If you're looking for an up-and-coming travel destination in Europe, look no further than Skopje.
This charming city is quickly becoming one of the most popular tourist destinations on the continent.
Why? I'm going to tell you why.
Here are 12 reasons (with a bonus reason) why I think Skopje is poised to become the next big thing in European travel.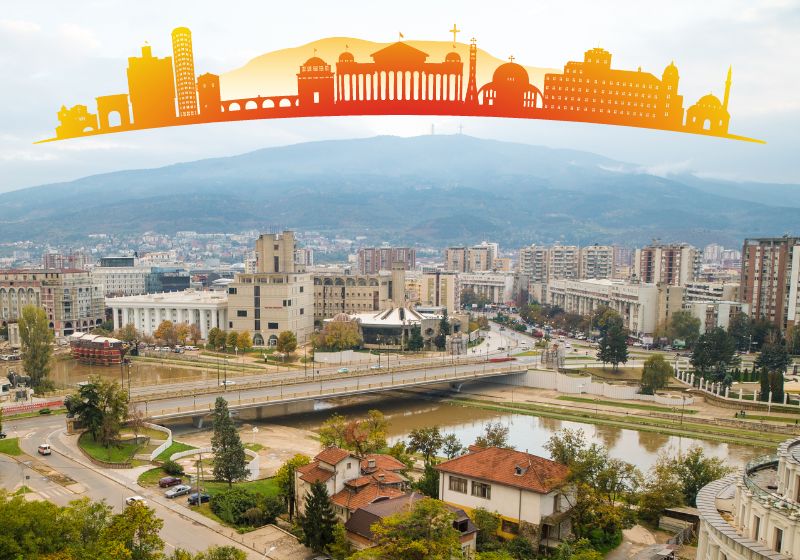 North Macedonia is Booming
Skopje is the capital of Macedonia, a country that's been gaining popularity as a tourist destination in recent years. And for good reason!
Macedonia has a lot to offer visitors, from stunning natural scenery to rich history and culture. Skopje is the perfect base for exploring all that Macedonia has to offer.
Macedonia is also on a path to EU membership, which means that it's only going to become more popular in the coming years.
Skopje's Beautiful Architecture
One of the first things you'll notice about Skopje is its beautiful architecture.
The city is full of ornate buildings, from medieval churches to grandiose government buildings. And thanks to a recent renovation project, many of these buildings have been restored to their former glory.
Even if you're not normally into architecture, I think you'll appreciate the beauty of Skopje's buildings. They really are something special.
Skopje Has a Rich History and Culture
Skopje has a long and fascinating history, dating back to the days of the Roman Empire.
The city has been ruled by everyone from the Byzantines to the Ottomans, and each group left its mark on the city's culture.
Today, Skopje is a melting pot of cultures, with influences from all over Europe and Asia.
Wander through the streets, and you'll feel like you've stepped back in time, and I think people who discover Skopje for the first time will appreciate its unique history and culture and be wanting to come back and tell their friends about it.
Affordable Travel Costs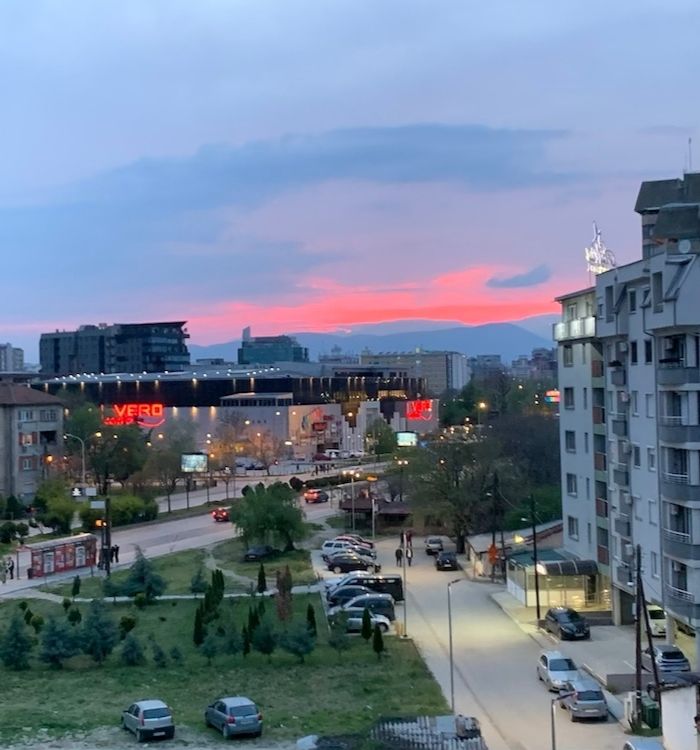 Skopje is a very affordable city to visit. Hotel prices are reasonable, and there are plenty of affordable restaurants and cafes. You can also find great deals on flights to Skopje from all over Europe (more on this soon).
Airbnbs apartments are also on the rise, and they are super affordable too (~$30 per night for a 3-bedroom apartment in the city center)
In short, Skopje is a great city to visit if you're on a budget.
Skopje Is Easy to Get Around
Skopje is a very walkable city, and it's easy to get around on public transportation.
The city center is relatively small, so you can easily walk from one end to the other. And if you want to venture outside of the center, there's an excellent bus system that will take you wherever you want to go.
Taxis are also super cheap, but at the time of writing, there still isn't an Uber-like service where you can book a taxi via an app.
You have to call a taxi, explain where you are, and wait for it there (& hope for the best). This is one of the things I dislike about Skopje and is actually surprised nobody has ever decide to launch a taxi app there.
Stunning Natural Scenery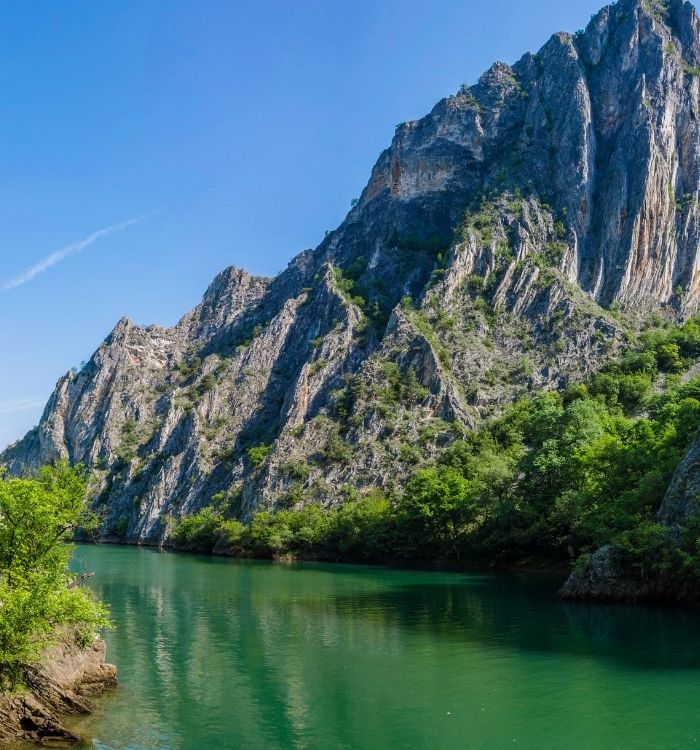 Just outside of Skopje lies some of Macedonia's most stunning natural scenery.
The Matka Canyon, for example, is a beautiful lake surrounded by mountains. And Mavrovo National Park offers plenty of hiking and camping opportunities.
A Friendly and Welcoming City
The people of Skopje are warm and welcoming, and you'll quickly feel at home in the city.
Everyone you meet will be eager to help you find your way around or give you recommendations on what to see and do.
READ: 6 Ways to Meet Locals in Skopje: Making New Friends in Skopje
A Growing Food Scene
Skopje's food scene is growing, thanks to the city's diverse population. You can find everything from traditional Macedonian cuisine to international dishes from all over the world.
And thanks to the city's affordable prices, you can try all sorts of new foods without breaking the bank.
A Lively Nightlife Scene
Skopje is home to a thriving nightlife scene.
There are plenty of bars and clubs to choose from, and the city comes alive at night. Whether you're looking for a relaxed evening out or a wild night on the town, you'll find it in Skopje.
It's a Safe City
Another reason why I predict Skopje will be the next big travel destination in Europe is that it's a safe city.
You can wander around the streets without worry, and there's little crime. You'll always feel safe and secure in Skopje.
Airline Routes To Skopje Are Increasing

Finally, Skopje's popularity as a travel destination is on the rise. More and more airlines are adding routes to the city, making it easier and more affordable to visit.
There are currently 12 airlines flying to and from Skopje International Airport, with direct flights from cities all over Europe.
And as the city continues to grow in popularity, I predict that even more airlines will start flying to Skopje in the future.
Skopje is Becoming a Go-To City For Digital Nomads
In recent years, Skopje has become a go-to city for digital nomads. And it's not hard to see why.
As explained, the city is affordable, safe, and easy to get around. There's also a growing food and nightlife scene. Plus, the city is also filled with history and culture.
I predict that Skopje will continue to grow in popularity as a digital nomad destination and that more and more people will choose to live and work here.
BONUS: It's a Great City For Instagram Photos
Last but not least, Skopje is a great city for Instagram photos. The city's beautiful architecture and stunning natural scenery make it a photographer's dream.
So start planning your trip to Skopje and get ready to take some amazing photos!
---
What Are Some Reasons Why Skopje May
Fail

To Become a Big Tourist Destination?

While Skopje has a lot going for it, there are some reasons why it may fail to become a big tourist destination.

For one thing, the city is still relatively unknown. It's not yet on the radar of most travelers, and it may take some time for word to spread about all that Skopje has to offer. I predict the city would need to do a solid advertising campaign to promote Skopje to Europe and the rest of the world.

Additionally, one might also add the pollution issue in Skopje during the winter months, as the city is located in a valley, and often times the air quality becomes very poor.

This may deter tourists from wanting to visit and enjoy all the city has to offer.

And finally, Macedonia is still not currently an EU member state, which could make travel to and from the country more difficult in the future (if it ends up never getting that EU membership).

So while I do believe that Skopje has the potential to be a big travel destination, there are some challenges that the city will need to overcome first.
---
---
Skopje is definitely a city on the rise, and I predict that it will eventually become one of the most popular travel destinations in Europe.
Thanks to its convenient location, stunning natural scenery, friendly people, and growing food and nightlife scenes, Skopje has everything you could want in a European city.
So start planning your trip now – you won't regret it!