Skopje, the capital city of Macedonia, offers a unique blend of history and modernity, attracting tourists from all over the world.
However, as a visitor, getting around Skopje might feel a little overwhelming at first, primarily because many identification signs are written in Macedonian, which uses the Cyrillic alphabet, making it difficult for non-native speakers to navigate.
Pair that with the scarce information about public transportation, which locals are familiar with, but visitors might not be, and you will get a recipe for confusion.
But worry not!
Getting around Skopje as a tourist isn't as complicated as it might seem at first, and with a little bit of planning and orientation, you can easily navigate the capital city and enjoy its many attractions.
Therefore, if you plan on visiting Skopje, here's everything you need to know about getting around like a pro and making your trip to this beautiful Balkan country a breeze.
Public transportation is readily available in Skopje, with buses being the primary mode of transportation.
To travel by bus, you will need to purchase a day bus card (valid for 24 hours) for ~120 MKD (which is around $2) on the bus you are taking or an official JSP kiosk, such as the one located at the main bus terminal.
Alternatively, if you prefer a more flexible means of transportation, taxis are an abundant and reasonably priced option in Skopje. (although, at the time of writing, there is still no Uber-like service available).
Before coming and venturing out to explore the city, it's helpful to familiarize yourself with your surroundings by loading up Google Maps from your accommodation and taking some time to walk around.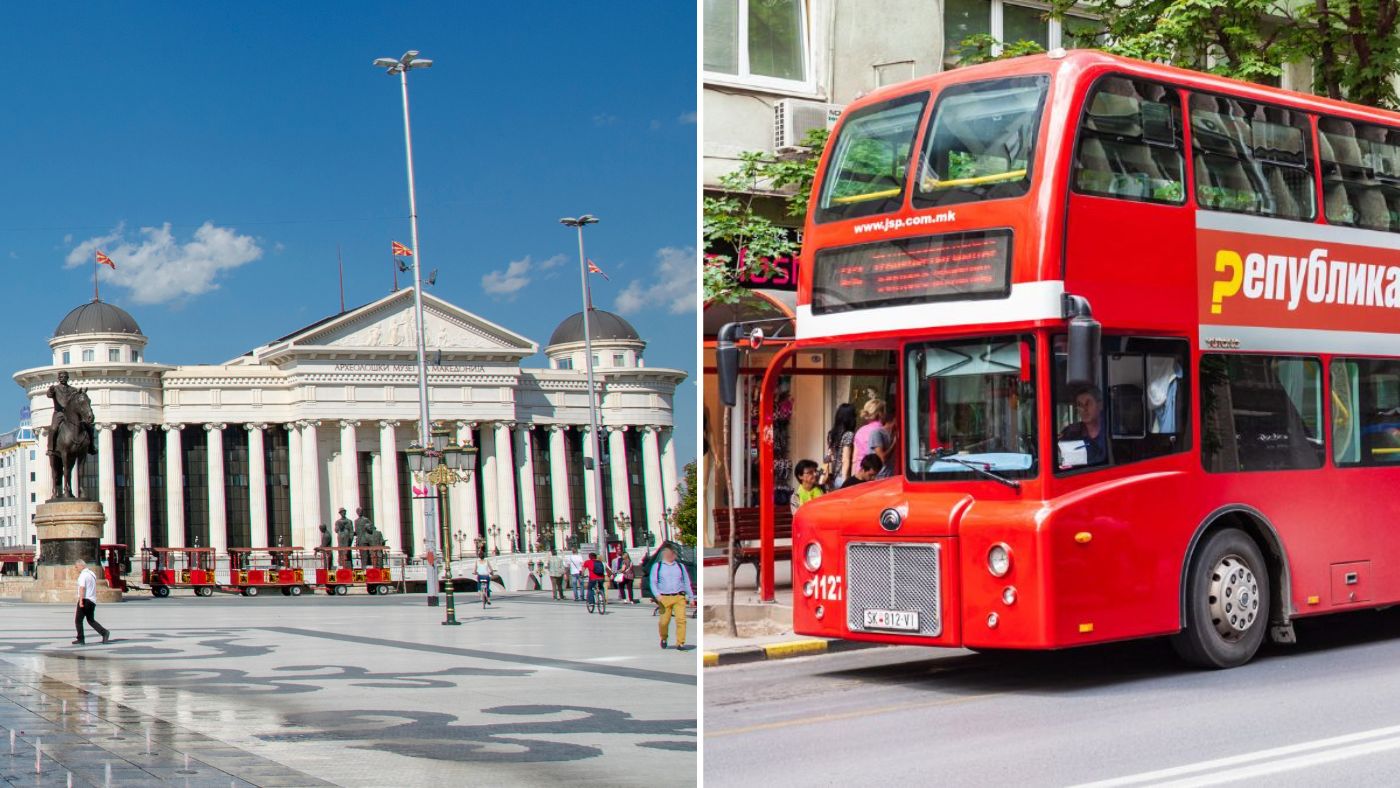 Major Transportation Options in Skopje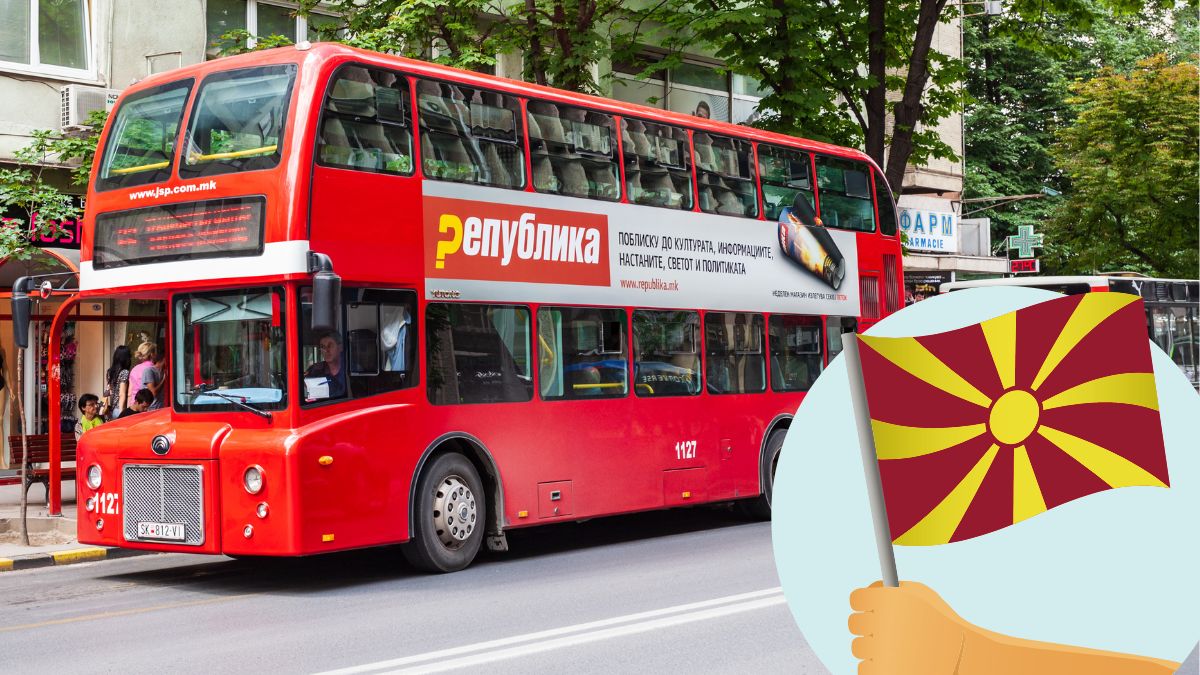 Public Transport
Skopje offers a convenient public transportation system, primarily consisting of city buses.
These buses resemble old London buses (pictured above) and are quite regular, with around 20 minutes of wait time between them.
To see the official timetable of the public buses in Skopje, click here.
The daily bus ticket lasts 24 hours, costs 120 MKD ($2), and can be used for as many bus rides as you take that day.
You can purchase a daily bus ticket either on the bus, where you will pay in cash, or pretty much any public kiosk close to a bus stop if you prefer paying with a card.
Alternatively, you can also purchase a card preloaded with 10 or more bus rides that you need to tap on the machine inside the bus you are taking.
These bus cards can be purchased in official JSP booths scattered throughout the city.
The closest one to the city's center is next to the bus stop in front of the city's farmer's market, Bunjakovec, but by clicking this link, you will find others.
The cards that offer multiple rides are a bit more expensive than a daily ticket, but you will ultimately save money if you use the bus often during your stay in Skopje, compared to paying for a daily ticket more frequently.
Taxis and Ride-Sharing
Taxis in Skopje are also a prevalent and affordable option for tourists to get around the city.
These are typically white and yellow, making them easy to spot, and they can be found in designated taxi ranks of the city, such as the opposite of the Holiday Inn Hotel, or booked via a phone call.
The fare for a taxi in Skopje starts at around 50 MKD (less than $1), with an additional 20 MKD ($0.50) per kilometer.
It's worth noting that not all taxis are equipped with metering devices, which might open up the opportunity for scams and overcharges; therefore, always make sure you are riding with a reputable company or at least negotiate the fare upfront before starting the journey.
Be aware drivers might increase their rates for tourists, so having an idea of the distance to your destination and the common taxi fares can help avoid overcharging.
Now, this might be a little annoying cause it's an outdated and complicated system; however, ride-sharing apps like Bolt have sought drivers in Skopje as of the time of writing this (October 2023), which indicates they might start operating in the capital city soon.
Apps like these offer a reliable and convenient way to book a ride directly from your smartphone, providing a fare estimation before confirming your ride.
It's also an excellent choice for tourists and visitors unfamiliar with the taxi operating system or those who prefer cashless transactions, as the pricing is generally transparent and competitive.
However, it's important to keep in mind that the availability of ride-sharing services can sometimes vary, especially during peak hours, and surge pricing may apply.
So whether you opt for traditional taxis or ride-sharing services when they become available in Skopje, this will definitely be a more comfortable and efficient way to explore the city at your own pace.
With that said, if ride-sharing apps are still not available during your visit to Skopje, here are the cheapest and most reliable taxi companies:
Naše Taxi: +389 21 51 52
Taxi Global: +389 21 51 80
In Taxi: +389 21 55 51
Biking and Walking
Apart from public transport and taxis, biking or walking is another great way to explore and get around Skopje.
The city is blessed with numerous bike paths, particularly along the Vardar River, and renting a bike can be a fun, eco-friendly, and cost-effective way to navigate the city.
Bike rentals are available from several companies, including Rent-A-Bike Skopje and Outdoor Adventure, which are the closest ones to the city center.
Bikes can typically be rented hourly or daily, and some rental services even offer guided tours of the city.
As you pedal your way around, you'll have the flexibility to stop and explore attractions as you please, from the Old Bazaar to the City Park, etc.
On the other hand, walking is more than a means of transportation – it's an immersive way to experience the heartbeat of Skopje.
The city center is relatively compact, and most of its main attractions, such as Macedonia Square, the Stone Bridge, and the Old Bazaar, are within a comfortable walking distance from each other.
This makes it possible to see much of what Skopje offers simply by strolling around.
You'll also find that walking gives you a genuine connection to the city: you can interact with friendly locals, discover hidden gems, and indulge in street food along the way.
Just remember to pack comfortable shoes, and don't forget to download a map of the city or a GPS-enabled app to guide you as you explore this captivating city on foot.
Navigating the City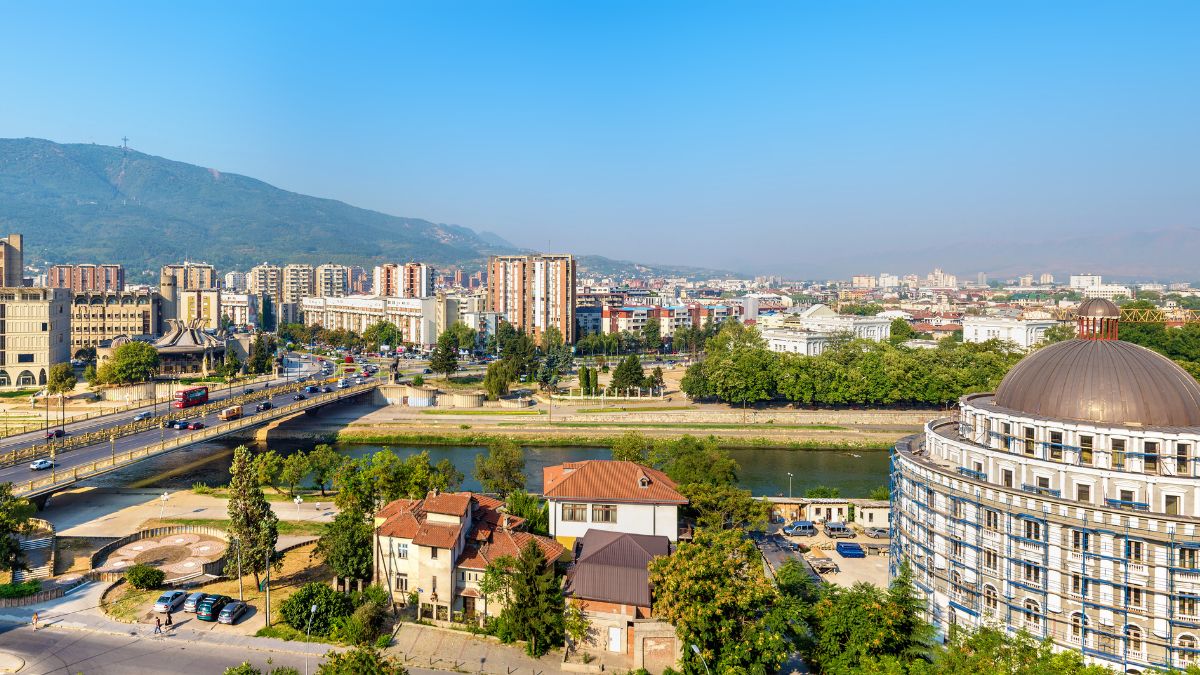 Using Maps and Apps
When exploring Skopje, it's essential to familiarize yourself with the city layout to make the most of your trip.
To help with this, pick up a physical map from your accommodation or use smartphone applications like Google Maps or CityMapper.
These apps can provide real-time information, directions, and public transportation schedules, making navigating the city and reaching your desired destinations easier.
Finding Tourist Information Centers
Skopje offers several tourist information centers to assist visitors in finding their way around the city and discovering local attractions.
The VISIT Skopje center is one reliable option. Here, you can find essential phone numbers, travel tips, and helpful information to make your stay more enjoyable. They can also provide a city map and point out popular attractions.
In addition to tourist information centers, online resources such as our own Skopje Guide website where we offer valuable travel tips and recommendations.
These sources can help you plan your visit and ensure you experience the best of Skopje's museums, historical sites, and natural attractions.
Emergency Numbers to Know
In case of an emergency, it's essential to know the phone numbers you can call for assistance while in Skopje.
The general emergency number in Skopje is 112, which can connect you with police, fire department, and ambulance services.
For non-emergencies, you can call the police directly at 192 or seek assistance from road help by dialing 196 or 13-112 for mountain rescue, in case you get stranded at some of the surrounding mountains, such as Vodno or Matka.
For medical assistance, you can also contact private clinics or hospitals like Acibadem Sistina Hospital (+389 (0)2 3065-850) or Zan Mitrev Clinic (+389 (0)2 313-6666).
Language and Communication
If you are a tourist in Skopje, you certainly won't have an issue with language and communication, as most people in Skopje speak English, especially the younger generation.
However, if you want to familiarise yourself with some basic phrases that will make communication a tad bit easier, you can always check out mobile applications such as Duolingo, Qlango, and iTalki, as these offer Macedonian language courses that you can access anytime, anywhere.
These apps utilize engaging and interactive methods to make language learning fun and effective.
Additionally, if you are only visiting Skopje for a short time but still want to learn some key phrases, here are some to get you started:
Hello: Zdravo (Cyrillic – Здраво)
Goodbye: Doviduvanje or Cao (Cyrillic – Довидување or Чао)
Please: Ve molam (Cyrillic – Ве молам)
Yes: Da (Cyrillic – Да)
No: Ne (Cyrillic – Не)
Еxcuse me – Izvinete (Cyrillic – Извинете)
Do you speak English?: Dali zboruvate angliski? (Cyrillic – Дали зборувате англиски?)
I don't understand: Ne razbiram (Cyrillic – Не разбирам)
I don't speak English: Ne zboruvam angliski (Cyrillic – Не зборувам англиски)
Where is: Kade e…? (Cyrillic – Каде е…?)
Accessibility for Disabled Travelers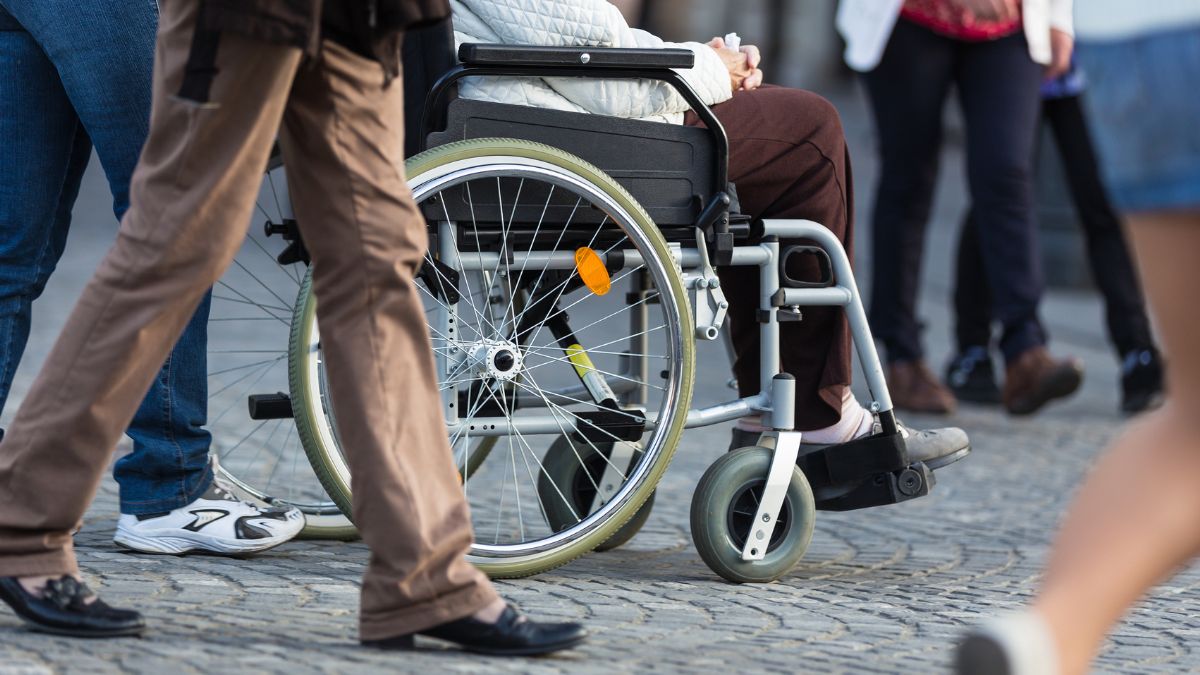 When visiting Skopje as a traveler with disabilities, knowing the available facilities and services for a comfortable trip is essential.
In this section, we will discuss the accessibility of public transportation, accommodation, and important tourist sites in Skopje.
Public Transportation: Skopje's public transportation system, JSP Skopje, might be a challenge for some disabled travelers. Although information on its accessibility is limited, it is advised to contact the transportation company directly to inquire about its facilities for passengers with reduced mobility. From the available information on their website, they offer special transportation to groups with disabilities for things like day excursions, but if this is not the case, it's best to contact the information center directly.
Accommodation: Some hotels and apartments in Skopje have wheelchair-accessible facilities. These include the Holiday Inn and Aleksandar Palace. However, for more specific information, TripAdvisor forum discussions suggest contacting the accommodations directly to get detailed information on their accessibility features. Additionally, online booking platforms often include filters to search for wheelchair-friendly lodging options.
Tourist Sites: Several popular attractions in Skopje, including the Old Bazaar and Kale Fortress, might pose challenges for disabled travelers due to uneven pavements and limited accessible facilities, as noted by Disability Insider. However, some tourist spots, such as the City Park, various museums, and cultural centers, offer more accessible options for visitors with disabilities. It is recommended to research accessibility information for specific sites of interest before visiting or booking a specialized guided tour tailored for travelers with disabilities.
Some Safety Tips for Tourists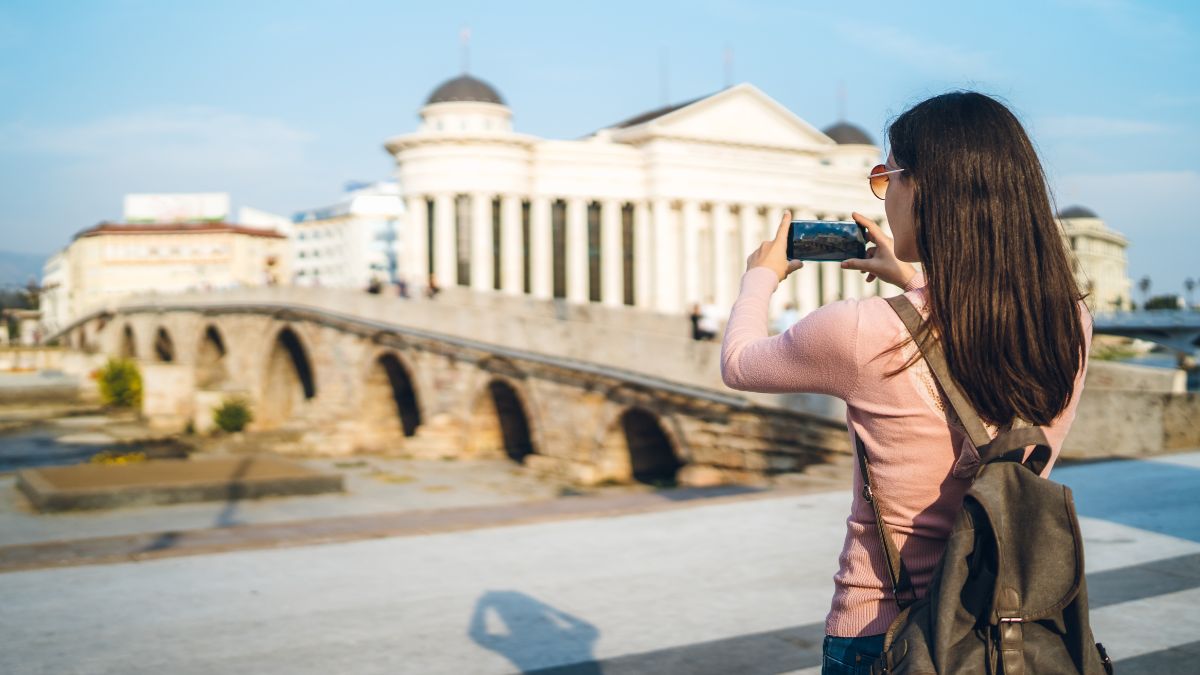 Skopje is a generally safe city, but being vigilant and aware of your surroundings is crucial, and it's essential to prioritize your safety as a tourist.
Here are some helpful safety tips to consider while touring Skopje:
Firstly, always keep your belongings close to you at all times, especially when visiting popular tourist sites or using public transport.
Skopje has an average crime rate, but like with any major city, crimes of opportunity, such as pickpocketing and theft, can be a concern (Travel Safe – Abroad).
When exploring the city, it is advisable to avoid walking alone in dark or isolated areas, especially late at night. Stick to well-lit and populated areas, and consider using taxis or ride-sharing services for your transportation needs after dark.
Public transport in Skopje is pretty reliable, with frequent buses available even at night; however, it's always best to have alternative plans or give yourself extra time to get to your destinations if you rely on public transport options.
Lastly, be sure to memorize and have handy the essential phone numbers you might need in cases of an emergency, such as the local police, medical services, and your country's embassy in Macedonia (which you can find a list of here).
Budgeting for Transportation
When planning a trip to Skopje, it's essential to budget for transportation costs to make the most of your visit.
There are several options for getting around Skopje, including public transportation, taxis, and walking.
Public transportation is an affordable and efficient way to move around Skopje. Fares are relatively low, typically costing 120 MKD ($2) for a daily bus ticket.
It's best to keep some cash on hand, as these fares are usually paid in cash, especially if you are buying your ticket on the bus and not from a kiosk.
Taxis are another popular mode of transport in Skopje, especially for those looking for more flexibility and comfort. Starting rates for taxis are typically 50 denars, with an additional 20 denars per kilometer.
Again, be cautious about overly priced rides, particularly around tourist areas, as some drivers may charge higher rates. It may be helpful to agree on the fare beforehand to avoid surprises.
Skopje is a relatively walkable city for travelers who enjoy walking, and many attractions are within walking distance.
Walking allows you to observe the city's architectural beauty and immerse yourself in the local culture without the additional expense of transportation.
To help with budgeting for your trip to Skopje, consider the following transportation cost estimates:
Public Transportation: 120 MKD ($2) per one-day ticket
Taxis: 50 denars starting rate + 20 denars per kilometer
Walking: Free
By keeping these cost estimates in mind, you can make better decisions when planning for transportation in Skopje and enjoy an affordable and enjoyable experience.
Cultural Etiquette and Tips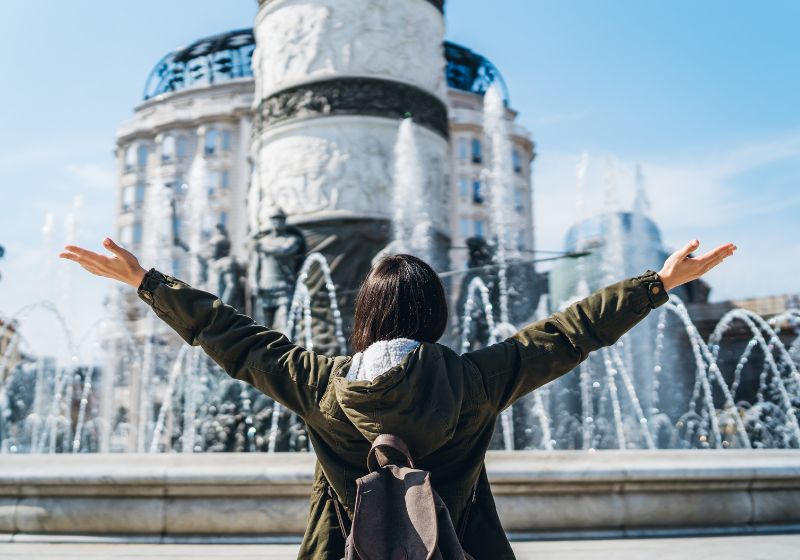 As a tourist in Skopje, it's crucial to be aware of local customs and etiquette to ensure a positive experience.
In this section, we'll outline some important cultural tips for navigating the city.
First things first, Macedonian culture is steeped in traditions that are both endearing and interesting, but Macedonians generally have a warm and welcoming attitude towards visitors.
They appreciate when tourists show an interest in their culture, so don't hesitate to engage in local traditions and customs.
However, some things, such as dressing modestly when visiting religious sites, such as churches and mosques, are recommended, as people may be side-eyeing you if you don't, and you may not even be allowed in.
A common rule when visiting a religious site is for women to cover their shoulders and knees, while men should wear long pants. This demonstrates respect for the local culture and will be appreciated by the locals.
When tipping, it is customary to leave either a 10% tip in restaurants and cafes or what's left to round the bill if you are satisfied with the service. For taxi drivers, simply round up the fare to the nearest amount.
On the other hand, when it comes to cultural 'don'ts,' there are several ways that you can offend a proud Macedonian, so we would generally recommend avoiding the discussion of sensitive issues such as politics, particularly questions around national identity and relations with neighboring countries.
Lastly, when exploring the city, be mindful of your surroundings and try to avoid photographing military installations, government buildings, or people without their consent.
Remember, these are general suggestions and may not apply to everyone in Skopje, as attitudes can vary widely.
But by showing respect and understanding towards Macedonian customs and traditions, you'll find your interactions with locals far more rewarding and enriching.
---
This guide was first published on March 21, 2023 and was last updated on November 14, 2023. For more information, please contact us at contact@skopjeguide.com.