Skopje offers a rich cultural experience for travelers who enjoy exploring historical sites, vibrant markets, and fantastic local cuisine.
For those accompanied by their furry friends, finding a pet-friendly hotel is essential to ensure a comfortable stay for both you and your pet.
Luckily, Skopje boasts a variety of pet-friendly hotels that cater to different budgets and preferences, allowing you to choose the perfect accommodation for your trip.
From luxurious stays to more budget-friendly options, you're sure to find a place that suits your needs and keeps your pets happy.
As you plan your adventure in Skopje, rest assured that the city's pet-friendly hotels will welcome you and your furry companion with open arms.
So with that said, here are the best pet-friendly hotels and apartments in Skopje…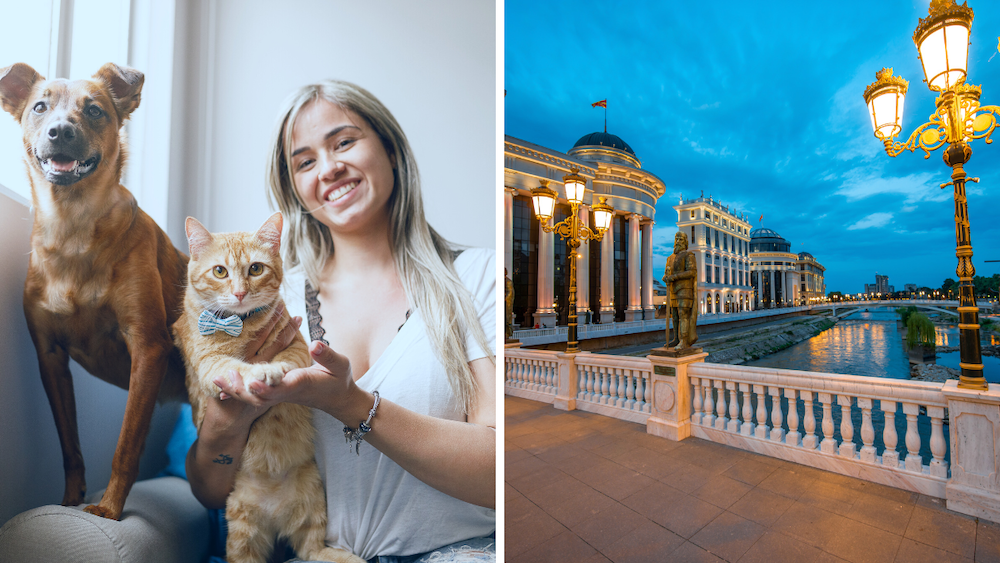 Park Hotel & Spa
Park Hotel & Spa offers a luxurious and welcoming experience for you and your pet. With its spacious rooms and variety of amenities, you can rest assured that your stay will be pleasant and memorable.
Limak Skopje Luxury Hotel
Experience the elegance and comfort of Limak Skopje Luxury Hotel. This pet-friendly hotel ensures that both you and your pet can enjoy its luxurious facilities to the fullest.
Hotel Hunter's Lodge Kamnik
Hotel Hunter's Lodge Kamnik welcomes your furry friend with open arms. With its cozy atmosphere and excellent service, you can be certain that your stay will be comfortable and hassle-free.
Ibis Skopje City Center
For a reliable and modern accommodation option, look no further than Ibis Skopje City Center. This pet-friendly hotel provides all the necessary amenities to keep you and your pet comfortable during your stay.
Foxxy Apartments
Indulge in the homely feeling of Foxxy Apartments. These pet-friendly apartments offer you and your pet the convenience and comfort of a home away from home.
Exclusive Skopje
Experience luxury and comfort at Exclusive Apartments Skopje. This pet-friendly hotel guarantees a delightful stay for both you and your furry companion.
Aatma Apartment
Aatma Apartment is another excellent pet-friendly option for your stay in Skopje. With its comfortable and stylish interiors, both you and your pet will feel right at home.
BJANKA Square Apartments Skopje
Lastly, BJANKA Square Apartments Skopje offers spacious and cozy apartments that cater to the needs of you and your pet. Enjoy the convenience of pet-friendly accommodation in the heart of Skopje.
---
Tips for Traveling with Your Pet
Traveling with your pet to Skopje can be a fun and rewarding experience when you know how to make the trip more comfortable for both of you.
Here are some tips to help you during your stay in Skopje's pet-friendly hotels:
Firstly, always plan ahead by booking a pet-friendly hotel well in advance.
Skopje has various options that cater to pets, but it's important to ensure they have rooms available for your travel dates.
Check the hotels' pet policies to make sure you and your furry friend meet their requirements.
When packing for your pet, create a travel checklist to ensure you bring essential items such as a leash, collar, food, water, bowls, toys, and a pet bed or blanket.
Also, don't forget to pack any necessary medications, health records, and a first aid kit specifically designed for pets.
While exploring Skopje, make sure to take advantage of the city's parks and open spaces for your pet to stretch their legs, get some fresh air, and make new friends.
If you're unsure where to go, ask the hotel staff for recommendations on dog-friendly parks, beaches, and attractions nearby.
Remember to always respect local laws and etiquette when out and about with your pet.
Keep your pet leashed and clean up after them to maintain a pleasant environment for everyone.
Lastly, take time to consider your pet's temperament and adjust your itinerary accordingly.
If your pet is not usually comfortable in crowded places, plan your day to avoid peak hours or choose less busy locations.
Also, always make sure your pet has some quiet time to rest and relax back at the hotel.
Following these tips will help ensure you and your pet have an enjoyable time in Skopje, creating unforgettable memories together.
Local Pet Services
If you're visiting Skopje with your furry companion, it's essential to be aware of some local pet services that can make your trip smoother and more enjoyable.
One of the first things you might need is a pet store where you can purchase food, treats, and other supplies.
Skopje has several pet stores, such as PetCentar and LunaPetShop.
They cater to your pet's needs and even offer a variety of toys to keep them entertained during your stay.
During your travels, you may find it helpful to have access to a veterinarian.
There are numerous vet clinics in Skopje, including VetSvet (Facebook page link) and PetVet in Aerodrom.
These clinics can provide essential healthcare services and advice if your pet requires any medical attention.
Don't forget about dog-friendly parks and outdoor spaces in Skopje to ensure your pet stays happy and active.
City Park Skopje and Taftalidze Park are two favorites among locals and visitors alike.
The wide-open spaces are perfect for long walks, games of fetch, or simply enjoying the sunshine and fresh air.
Lastly, if you require any grooming services for your furry friend, Skopje has several options. Here's a list of the best-rated ones.
These businesses can help keep your pet clean and looking their best during your stay.
Keep these services in mind, and both you and your pet will be able to enjoy a pleasant trip to Skopje, North Macedonia.
Pet-Friendly Transportation Options
As you plan your trip to Skopje with your furry friend, transportation is undoubtedly an important aspect to consider.
To make your journey seamless and stress-free, here are some pet-friendly transportation options to look out for.
Taxi services: Many local taxi drivers in Skopje are open to accommodating pets. However, it is advisable to contact the taxi service beforehand to ensure the particular driver is comfortable with having your pet on board. Some taxi companies might have designated pet-friendly cars, so inquire ahead of time.
Public transportation: Skopje's buses and trams can be an option for you and your pet. Smaller pets are usually allowed if they are in carriers. For larger pets, try to avoid rush hour to ensure a more comfortable experience for both you and your furry companion. It is also best to check with the transportation company for specific rules and regulations regarding pet travel.
Car rentals: Renting a car in Skopje can be an excellent choice if you want to explore the city and its outskirts at your own pace. Many car rental agencies offer pet-friendly options, with some even providing pet-friendly accessories such as seat covers and harnesses. Confirm with the agency beforehand to guarantee a smooth rental experience.
Remember to always keep your pet's safety and comfort in mind when choosing transportation.
By following these guidelines and being considerate of other travelers, you and your pet can enjoy a pleasant trip in Skopje, Macedonia.
Frequently Asked Questions
Are there any additional fees for bringing pets?
Yes, some hotels in Skopje may charge additional fees for bringing pets. It is best to check with the specific hotel you are interested in to understand their pet policy and any associated fees. Always remember to inquire about this while making your reservation to avoid any surprises.
What are the policies for pets at hotels in Skopje?
Pet policies differ from hotel to hotel in Skopje. Some may allow only small pets, while others may have restrictions on the number of pets you can bring. It's essential to understand the hotel's pet policy before you book to ensure a comfortable stay for both you and your pet.
Do hotels in Skopje offer services for pets?
Some hotels in Skopje offer a range of services for pets, such as pet treats, toys, and bedding. Others might provide pet sitting or dog walking services to make your stay more convenient. To find out what specific services a hotel offers, check their website or contact them directly.
Are there pet-friendly accommodations in central Skopje?
Yes, several pet-friendly accommodations are available in central Skopje. You can find options on Booking.com, Tripadvisor, and Expedia. Ensure to double-check the hotel's pet policy to make sure it meets your requirements.
Can I find hotels in Skopje with a dedicated pet area?
Some hotels in Skopje may offer a dedicated pet area or allow access to nearby parks and open spaces. This information is often available on the hotel's website, or you can contact the hotel directly to inquire about pet-friendly facilities and amenities.